Remembering Her Late Majesty Queen Elizabeth II – September 2022
A memorable day for Rubina Porter at Buckingham Palace 2011 receiving her MBE from the then Prince of Wales now King Charles III
---
Update on Sreepur Village's efforts to provide emergency supplies to families affected by devastating flooding in Bangladesh – August 2022
---
Chef Sabbir Karim hosts a Sreepur village 33 years celebration in London.

The Mayor of Camden Cllr. Nasim Ali OBE was the special guest at a celebration held in London to mark 33 years of Sreepur Village. The event was hosted by Award Winning Chef Sabir Karim, who is a Trustee of Sreepur Village and attended by Pat Kerr, the Founder of Sreepur Village. Rubina Porter MBE, who is also a Trustee attended and reports that the event was most enjoyable.
---
Latest photographs from Sreepur – June 2022
---
Women of Sreepur Village 2022 – March 2022
I am so proud and privileged to be part of such an excellent charity, as is our daughter Janette (end of the second row)

Ruby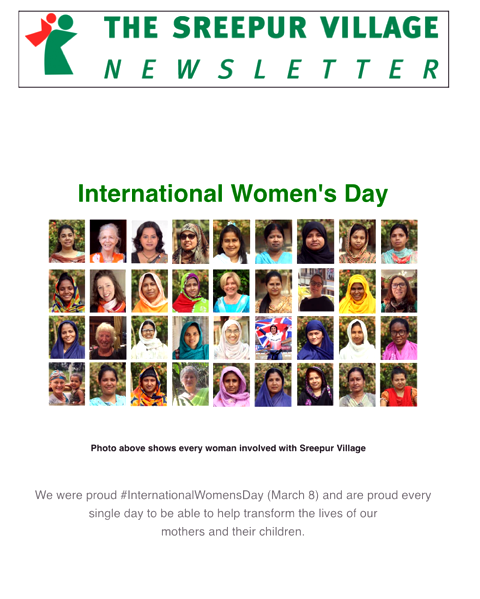 ---
International Womens' Day 8th March 2022
Wishing all the mothers a wonderful and happy International Womens' Day 8th March 2022
From Ruby
---
Generous Donation to Sreepur Charity – Feb 2022
We are so grateful for the generous donation of £4000 from a friend of our long-standing trustee, Ruby Porter. The money was spent on sewing machines, providing more mothers with new skills that will help transform their lives with confidence, independence and empowerment.