December 2019 – Sreepur Christmas cards
There is an interesting article in the Guardian today 11/12/19. It says-
If you are still to buy your Christmas cards, opt for a Guardian Money "best buy" – which sees the entire purchase price going to support the Sreepur charity that helps abandoned women and children in Bangladesh. In 2009 Guardian Money visited the project, started 30 years ago by former British airways flight attendant Pat Kerr, and we were so taken by what we saw we have promoted the cards – featuring handmade paper, and vibrant designs – ever since. Buyers can hand over their money in the knowledge every penny goes to the charity – one that makes a real difference in a country that often makes headlines for all the wrong reasons. A pack of 15 cards is £14.75p including p&p.

For more information on the project and to buy the cards, go to sreepurcards.org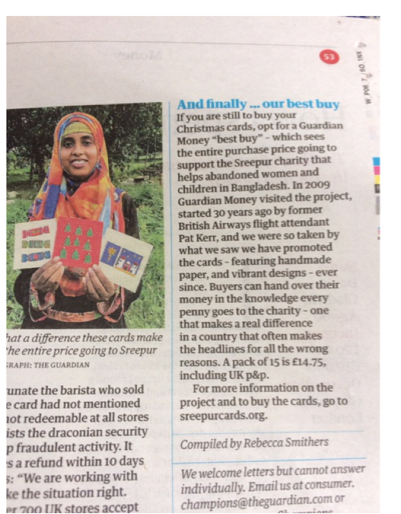 December 2019 – Sreepur stall at MEG Christmas Party
Merseyside Embroiderers' Guild held their annual Christmas party in All Hallows Centre, Liverpool on Saturday 7th December and Kathy Green came with all the goodies on the Sreepur stall.She raised £230 and Rubina Porter and Kathy Green would like to thank all members and friends who supported the Sreepur Village stall.
June 2019- Sreepur stall at Liverpool Town Hall
Thank you from Rubina Porter MBE to all the visitors to the Sreepur stall in Liverpool town Hall on Friday 31st May 2019. The grand total of £130.00 was raised for Sreepur. Thanks go to Kathy and Sue for manning the stall in Ruby's absence, she is sorry she could not be there.
---
May 2019- Sreepur stall
The Sreepur Village will have a stand at Liverpool Town Hall from 10am till 5pm on Friday 31 st May 2019 for one day only, to celebrate the Castle festival.
FREE ENTRANCE All welcome! Sreepur crafts items will be on sale.
---
March 2019 – News from Sreepur, Bangladesh
Sreepur was hit by a tornado with hail last week. It was very sudden and on the day of a combined picnic for staff, mothers and children. So many people were at the picnic spot and had little shelter – mothers and children were terrified.
Luckily there were only minor injuries, but a lot of small trees were uprooted and branches on large ones broken. They estimate that we have lost about £5k worth of crops, as its just before harvest for many vegetables.
 It was very localised but village homes with tin roofs did suffer.
---
March 2019 – Sreepur Stall at Baltic Market, Liverpool
Rubina Porter's  daughter Janette (trustee), with her lovely children, and Ruby's sister Kathy raised £100:00 at the Baltic Market Fair Trade Day on Sunday 3rd March. Thanks to all for supporting this event.
---
February 2019 – Sreepur village celebrates 30 years 1989-2019
The Sreepur Village, Shishu Polli Plus, was established at Sreepur in 1989 on a 15-acre site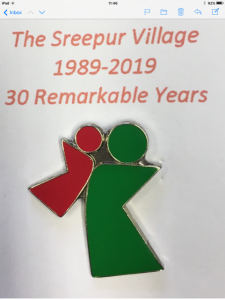 and has over the last 30 years, successfully re-integrated 897 mothers and 3043 children back into the community. The charity still strongly believes that poverty should not separate mothers from their children and in doing so continues to empower vulnerable women so that more families can gain a better quality of life for the future.
We would like to take this opportunity to share with you the story of how a visit to an orphanage of abandoned children in Bangladesh evolved into the development of The Sreepur Village (Shishu Polli Plus). It was in 1977 after visiting the orphanage, that the current Chair of Trustees of SPP, Trisha Silvester, set-up a UK registered charity to support the work of the Canadian Charity 'Families for Children' (FFC) to fund their work.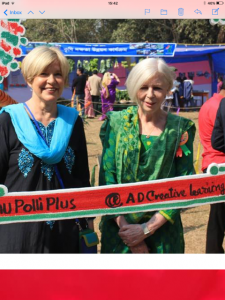 Following this, in the early 80's Patricia Kerr, the founder/overseas director of The Sreepur Village started voluntary work at FFC whilst working for British Airways as a flight attendant. In 1989, moved by the plight of the abandoned children and women, Pat and her British Airways colleagues decided to do something to extend help and fund raise. That something over the years has grown into a thriving learning organisation – The Sreepur Village – which focuses heavily on humanism, secularism and women empowerment.
For 30 years, Pat Kerr and her team have remained focused on how best to ensure capacity, voice, opportunities and dignity to the beneficiary population (impoverished and vulnerable women with dependent children) using Maslow's hierarchy of needs as a theoretical base for designing programmes. Throughout this challenging journey, commitment from the trustees, sponsors, fundraisers, donors, partners and the private sector to The Sreepur Village's ideals and actions has been instrumental in maintaining a positive momentum.
The 30th Anniversary celebrations commenced with a day long programme at Sreepur,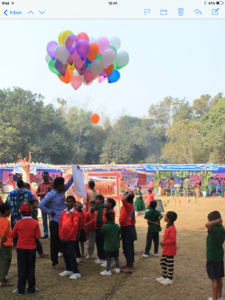 Gazipur on Wednesday February 6, 2019, the theme of which was Empowerment, Independence and Dignity.
Long-standing donors both local and overseas, trustees, well-wishers, government and other officials, and former beneficiaries of The Sreepur Village all attended this magnificent celebration.
The programme included an inauguration, an introduction to the founding staff, a presentation on our success stories, speeches and an evening of cultural activities. Following the initial opening celebrations, The Sreepur Village invited alumni for a day of activities.