"Threading Dreams Exhibition"
Exhibition of textiles and embroidery from The Sreepur Village, Bangladesh and also from the rural areas. All this beautiful work is created in adverse poverty by amazing women. There will be hand made cards, silk scarves and other gifts for sale. All proceeds will go to the 600 children and 150 destitute mothers who live at Sreepur, plus the Street Children project we run on the railway, the river banks and at Dhaka airport. Millions of street children live literally on the streets in Bangladesh. Ruby Porter MBE (trustee) will be in attendance each day from 10am-4pm to talk about her voluntary work in Bangladesh over the last 27 years.
To find out more about Sreepur Village handmade cards and to buy online click here
Dates to note:-
Ruby will be at the exhibitions from 11am -4pm each day
---
2nd December 2017 – an article about Sreepur charity cards in The Guardian newspaper
Check out this article which was published in The Guardian newspaper today. It tells everyone what we know already – 100 per cent of the purchase price of all Sreepur cards goes to charity!
Sreepur article in Guardian newspaper 2nd Dec ,
MEG Christmas Party
Merseyside Embroiderers Guild Christmas Party was held on 2nd December in Unitarian Church hall, Ullet Road, Liverpool. Ruby and Kathy were there with their Sreepur stall and they raised £185.00 to support the mothers and children in Sreepur.
November 2017 – Lancaster E.G. newsletter article
October 2017 – Threading Dreams exhibition, St. Barnabas Church, Penny Lane, Liverpool
The exhibition at St Barnabas went so well. We raised £740.00, people are so kind. It was lovely to see old friends, and new the church looked beautiful. Hilary's husband Patrick called in, he's a regular visitor.
Thank you all for your support. Ruby
3rd October 2017 – Latest news from Bangladesh
The Bangladesh Daily Star newspaper reports-
The government today started shifting of 26,000 Rohingyas from Naikhongchhari area of Bandarban to Balukhali camp in Cox's Bazar.
They took shelter in Naikhongchhari upazila after Myanmar army launched ethnic cleansing of the minority group in Rakhine state in retaliation of August 25 terror attack.
"We shifted 400 Rohingya people to the Balukhali camp today. The process will continue until the rest of the Rohingyas are shifted there," Shamsuzzoha, additional relief and refugee repatriation commissioner, told our Cox's Bazar staff correspondent.
The shifting process was started around 4:00pm in presence of the deputy commissioner of Bandarban, UNO of Naikhongchhari upazila and high officials of police and Border Guard Bangladesh, he said.
The government has set up the camp on 2000 acre of land in Cox's Bazar's Ukhia as Bangladesh witnesses the huge influx of Rohingyas fleeing persecution in Myanmar's Rakhine state.
The International Organization for Migration (IOM) yesterday said around 507,125 Rohingya refugees intruded into Bangladesh till September 30.
Report and photos from Rubina Porter MBE
The news from Bangladesh is dreadful. Pat Kerr, with a team from Sreepur. have gone down to the refugee camps at Cox's Bazar to see how we can help. It is so sad and the photos are distressing.
Ken and I know this area as we have visited and stayed close to the Myanmar border some years ago. It was very sad then but so much worse now.
Ruby
October 2017 – update to Threading Dreams exhibition in Calderstones Readers' Gallery
Ruby has sent us some photographs from her week at the Readers' Gallery, Calderstones and she reports that they raised £750.00 for the children at Sreepur and for the others. Ruby reports – "All our visitors enjoyed our beautiful embroidery. We had a lovely week but so much rain."
Here are some of the embroideries that will go to make our next Sreepur quilt which will be raffled with all the proceeds going towards Sreepur charity. For our latest quilt we have some wonderful embroidered elephants-
September 2017 – Talking to N. Wales E.G.
On 26th September Ruby went to N. Wales branch accompanied by her husband Ken. The members were very welcoming and were interested to hear about the work in Sreepur. Ruby reports – "We raised £615. 00, how kind. They made Ken and I so welcome".
Linda Beagan from N.Wales branch sent an email saying-
Dear Ruby
We are so pleased that we were able to contribute to such a great cause. I will pass this on to the Branch.
Also once again a big thank you for such an entertaining but thought provoking talk.
Best wishes and hoping that Sreepur thrives.
Linda
Don't forget the "Threading Dreams" exhibition and Sreepur stall continues in the Readers Gallery, Calderstones Park, Calderstones Rd, Liverpool L18 3JB until Sunday 1st October 2017. A chance to support a great cause and to buy some early presents!
September 2017 – Threading Dreams Exhibition at Calderstones Readers Gallery
THREADING DREAMS EXHIBITION, from Sreepur Village, Bangladesh. From 10am -4pm from Monday 25th September 2017 –Sunday 1st October 2017 in the Readers Gallery, Calderstones Park, Liverpool L18 3JD. Excellent Christmas gifts for sale at reasonable prices, with all proceeds going to help the 600 children and 150 destitute mothers who live at Sreepur Village, Bangladesh.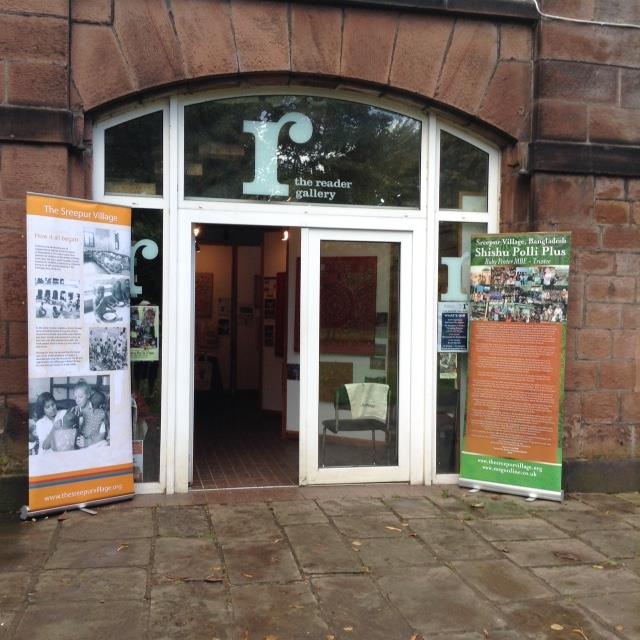 August 2017 – Threading Dreams Exhibition at Liverpool Town Hall
Ruby and Kathy held their Threading Dreams exhibition and Sreepur Charity Stall in Liverpool Town Hall from 14th -24th August. The exhibition was very well attended and they raised the magnificent sum of £2700 during the week. Ruby would like to thank everyone who attended and were so kind. Liverpool Lord Mayor Cllr Malcolm Kennedy also paid the exhibition a visit- have a look at the photos to see…
June 2017- invitation to the House of Lords, Westminster during Small Charity Week
Ruby was invited to a debate and reception at The House of Lords Westminster, as this week is Small Charity Week.
She reports that the reception was held in the Churchill rooms at the Treasury offices- an amazing building. It was a most interesting reception. I met the staff who were most helpful, polite and courteous. It was a pleasure to attend this excellent event.
I talked to visitors from other small charities from around the country. Very interesting people all like us, finding it difficult to raise the funds needed to help others who struggle to help themselves.
Last night I was talking to members of St Aidan's church in Billinge, Wigan. They enjoyed my talk about Sreepur and we raised £240.00 – how kind.
May 2017- Rubina Porter MBE was invited to St. Paul's Cathedral
Ruby and her husband Ken were invited to a special ceremony in St. Paul's Cathedral, London on Wednesday 24th May 2017. Two days before the event a suicide bomber had detonated a bomb at Manchester Arena, killing 22 people and injuring many others. Below is a report of the event from the Daily Mail Online-
Dozens of armed police lined the streets as The Queen arrived at St Paul's Cathedral this morning with her husband the Duke of Edinburgh. The pair led worshippers at a special service of dedication and thanks for the Order of the British Empire ahead of its centenary next month. Crowds were kept behind metal fences and watched by officers with machine guns in a beefed up security operation after the suicide bombing in Manchester on Monday.

The smiling Queen donned a mint green overcoat and matching hat combined with a floral dress. Among those seated in the pews of St Paul's Cathedral were almost 2,000 holders of the Order of the British Empire's awards, from Knights and Dames to those who have received a CBE, OBE or MBE. Those invited included former BBC weatherman Michael Fish MBE, broadcaster Dame Esther Rantzen and cartoonist Gerald Scarfe CBE.

The Very Reverend Dr David Ison, Dean of St Paul's Cathedral, told the congregation in his bidding: 'And we commend today to God's love those who suffer at the hands of others in Manchester and elsewhere.' In his sermon the Dean told those gathered: 'Thousands of award holders quietly go enriching our civic life and serving those in need, building the kingdom of God in love and care for others; and their awards often recognise, not only their individual efforts, but also the service of many others alongside them.'
Ruby and Ken both looked magnificent and Ruby said– "An excellent moving service at St Paul's Cathedral on 24 May, I felt very honoured to sit close to the Queen and Prince Philip. A few weeks ago I gave a lecture to the textiles students at Manchester University. I have sent a message to Lynn Setherington, the Head of Textiles who invited me, to say my thoughts are with them all at this sad time"
Ruby
May 2017- Sreepur stall at MEG Summer Tea Party
Thank you all for a lovely party. Once again I met old friends and new- all supporting Sreepur. We raised £115.00- how kind. Lovely to see all the Young Embroiderers enjoying the afternoon and talking to them about Sreepur. Ruby
Rubina M Porter
April 2017- Ruby's week
Rubina Porter MBE has just completed a very busy week of visits. On Monday evening she paid a visit to Wigan's Townswomen's Guild to speak about the progress being made in Sreepur Village. She had a lovely evening and raised £200 for the Sreepur charity.
On Tuesday she was invited to Manchester University by Lynn Setterington to lecture to the textile students. It was an excellent visit.
Then on Wednesday Ruby paid a visit to Glossop EG and spent a lovely afternoon with their members telling them all about the Sreepur Village project and showing them many examples of embroidery made in Bangladesh. She raised £300 for the charity. How kind!
March 2017- "Threading Dreams" exhibition in St Barnabas church, Penny Lane
Ruby and Kathy are situated in St. Barnabas Church this week until Saturday 25th March with their lovely Threading Dreams exhibition and popular Sreepur fundraising stall. Come and see for yourself if you are in the area, you will get a warm welcome and a chance to help a good cause.
Update to the week in St Barnabas Church- Ruby reports that " we raised £900.00 at St Barnabas- people are so kind. Thank you "

March 2017- recent "Threading Dreams" exhibition in Liverpool cathedral
Ruby and Kathy spent 10 days in Liverpool Anglican Cathedral recently with the "Threading Dreams" exhibition and the Sreepur stall. Ruby reports that everything went so well. We raised £1700.00- our visitors were so kind. They came from all over the world.

March 2017- interesting email
This email was sent to the main Sreepur site. It is wonderful to hear how inspiring a Speaker Ruby Porter is-
I would be interested in someone coming to my Local WI to talk about this amazing charity. I recently moved from Cheshire to Leicestershire. With my previous WI I organised several evenings with the wonderful Ruby Porter. She was a brilliant speaker putting across the stories behind the home and the work. I was lovely hearing her the following yeasr telling us how the girls were doing. I now live near Lutterworth and wonder if you anyone local to peak and sell your beautiful l cards and craft objects. I hope you and help. Jean Eastell President of Ullesthorpe WI
March 2017- Tweet from Dame Sarah Storey
Dame Sarah Storey, who is a great supporter of Sreepur would like to nominate our own Ruby Porter MBE as Woman of the Year
My incredible woman for #IWD2017 is the lovely Ruby Porter MBE of @SreepurVillage please read more about her here https://t.co/DsHXYpblFi pic.twitter.com/EaDWXvlNa7

— Dame Sarah Storey (@DameSarahStorey) March 8, 2017