Merseyside Expressive Stitchers' Group
Our new group has welcomed many of the former MEG members and we also look forward to welcoming new members from all walks of life with an interest in any type of stitchery or a desire to learn all about what we do. Whatever your textile and stitch craft interests are, or levels of ability, the varied programme and opportunities offer something for everyone. Read more some About Us here. Or Membership Registration here.
Next meeting- will be held-

Saturday 21st May 2022
from 10am – 4pm
A Workshop with Nicola Hulme "Dry Felt Landscape" will be held in All Hallows Centre,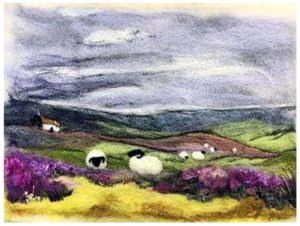 Greenhill Road, Liverpool L18 6JJ.Learn how to create this landscape picture. Nicola will guide you through the simple technique of 'dry' needle felting; how to prod, sculpt and create texture using Merino wool and textural threads, then finish with some hand embroidered detail. Cost £20 for members and £25 for visitors. Booking is essential as places are limited.
A kit will also be available to purchase on the day cost £10. The kit will include: picture to work from, felting mat, triangular felting needles, needle holder and pre-felt for the background. Also included will be a selection of Merino wool tops and textural threads to complete your picture. If you already have this equipment please feel free to bring it with you.
Visitors from other textile groups are welcome to attend
Please pay by BACS, Account Number 01742051, Sort Code 40-29-03, Account Name- Merseyside Expressive Stitchers' Group. When you have paid please let Miranda, our Course Booking Officer know by emailing coursebooking@megonline.co.uk
We hope to see you there.
---
Following a long illness, Joan Wilson's husband Alan, has passed away. Joan is a long-standing member of Merseyside Expressive Stitchers' Group/Merseyside Embroiderers' Guild. A Sympathy Card has been sent to Joan on behalf of the MEsG members. Alan's funeral will be held on Monday 23rd May at 1.30pm in the Rosemary Chapel, Springwood, followed by a gathering at 3pm at Liverpool Cricket Club. All members are welcome. As per Alan's instructions the service will be secular, dress "smart, casual, bright", with no cut flowers. Donations to RNLI or Musician's Benevolent Fund. If you wish to sent Joan a card please contact

secretary@megonline.co.uk

for Joan's address.
---
Our April TALK was delivered by the inspirational textile artist Beverley Saville. She brought lots of samples of her work to look at. If you missed the day there are some photographs to view here…
---
On Saturday 12th March 2022 we enjoyed a Workshop with Diane Moore "Fabulous Pouches". I f you were not able to attend we have some photos. Just click on the link…
---
---
In February we visited All Hallows Church, Liverpool to look at the wonderful stained glass windows as an "Inspiration Session for a Competition". The stained glass windows were created by Edward Burne-Jones and are well worth a visit. In September 2022 there will be an exhibition in All Hallows Church featuring the textile pieces we create from this inspiration. You may wish to make use of the close up views shown here, and if you would like to add any images to this album please send them to Hilary at hilarymccc@live.co.uk. You may take a virtual tour of the interior of All Hallows Church here…

---
---
Tina Saunders, who was trained in the RSN, and later became Dressmaker to the Queen, gave us a very interesting Talk at our January meeting. You can view some photographs of her work here if you missed it. We had a very enjoyable day among friends with Covid rules observed. Our delayed Christmas Competition "From Postcard to Stitch" was also judged today, and there were lots of beautiful entries to look at. Each member was send a postcard of a classic painting, which they had to interpret in their own way. Have a look here to see the winners and all entries.
---
Some of our committee are taking advantage of the sunshine with a coffee morning at Liverpool Cathedral. It was glorious!
---
There is a lovely write-up about NW Regional Day 2021 in the April edition of CONTACT. Read all about it here! https://www.megonline.co.uk/nw-regional-day-write-up/

---
North West Regional Day 2021
Saturday 24th April 2021.
Our first ever Virtual North West Regional Day was a triumph! We had 112 people registered and 103 attendees on the day, which was enjoyed by all. Our Speakers – Linda Miller, the acclaimed Machine Embroidery artist, and Michele Carragher, Principal Costume Embroiderer for Game of Thrones were magnificent. They both shared their work and were a great inspiration to us all. The Rose Bowl and Aurifil competition entries were up to the usual high standard and the winners were announced at the close of the day. The Rose Bowl was won by Sandra Kendal from North Lonsdale branch with PSYCHEDELIC LOVE and the Aurifil Award for Excellence was won by Diane Moore from Merseyside branch with A GLIMPSE OF VENICE. Congratulations to all the winners! Have a look at all the comments and reactions, also the Raffle Prize winners here https://www.megonline.co.uk/nw-regional-day-2021/
---