Merseyside Expressive Stitchers' Group
Our new group will be welcoming many of the former MEG members and we also look forward to welcoming new members from all walks of life with an interest in any type of stitchery or a desire to learn all about what we do. Whatever your textile and stitch craft interests are, or levels of ability, the varied programme and opportunities offer something for everyone. Read more some About Us here. Or Membership Registration here.
Next meeting- will be held-

Saturday 11th December 2021

2pm -4pm, All Hallows Centre, Greenhill Road, Liverpool L18 6JJ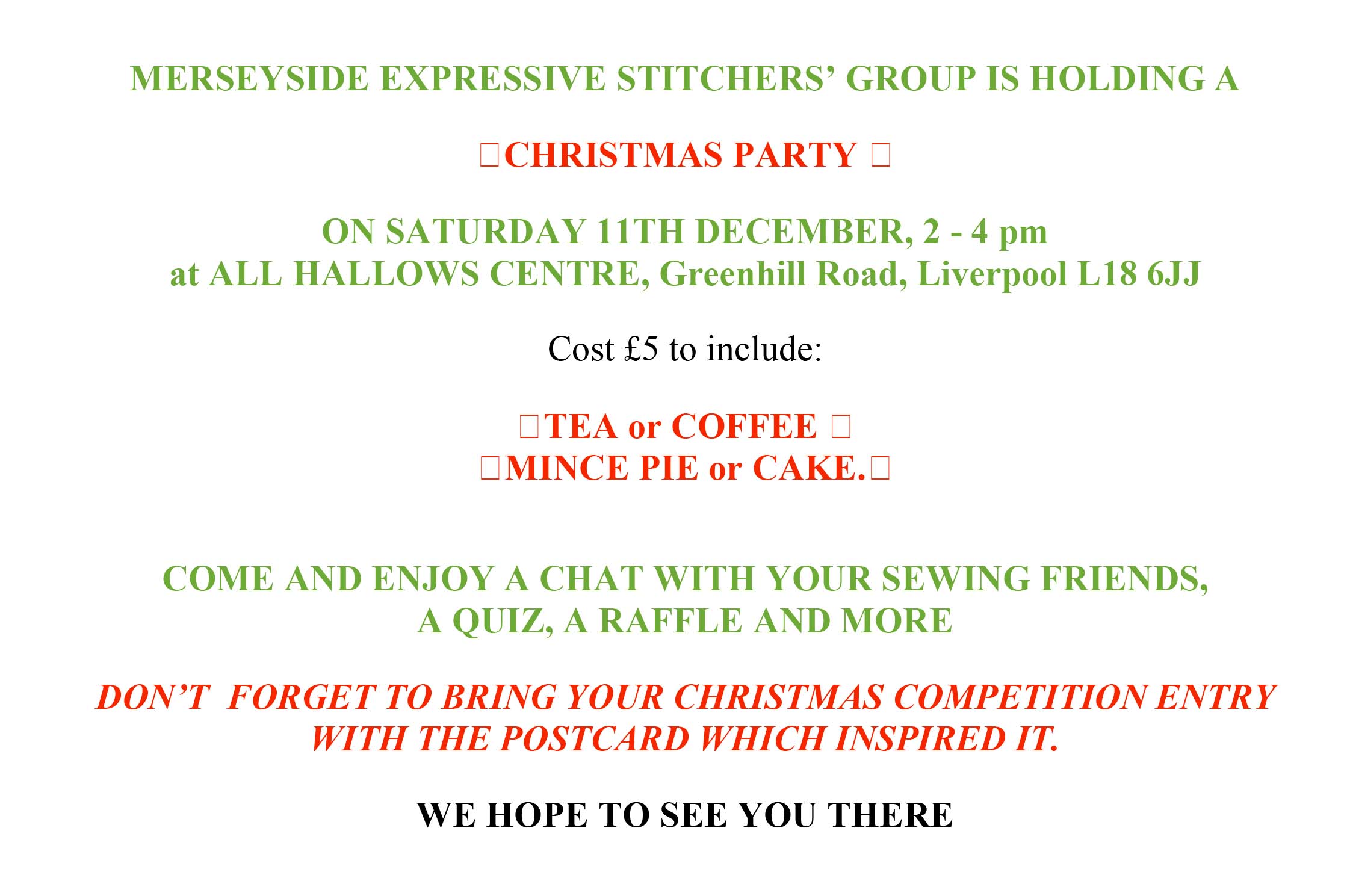 Just pay on the door, Everyone Welcome!
---
The first meeting of 2022 will be held on Saturday 15th January from 2pm -4pm. At the moment we are uncertain whether it will be a live meeting or held on Zoom but we will update you as soon as we can. Cost is £5.
"An Embroiderer's Tale" a Talk by Tina Saunders. Tina is a traditionally trained embroiderer and couture dressmaker with nearly twenty years experience which culminated in a dream job working for Her Majesty The Queen in The Royal Household at Buckingham Palace . She's worked on projects for Royalty and 'A list' celebrities and she designs and makes everything herself and is based in West Kirby, Wirral.
I'm sure Tina's talk about her experiences working in embroidery will be fascinating.
Visitors from other textile groups are very welcome!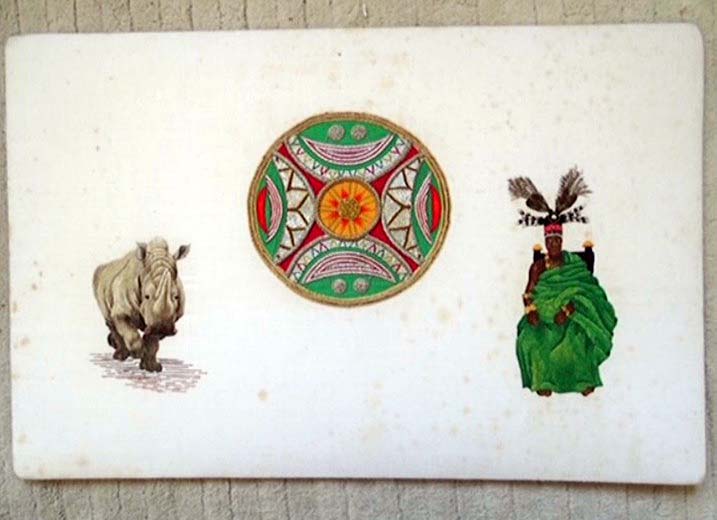 ---
The Royal School of Needlework has launched its Autumn Season of Live Online Talks, which launched in September! You can join RSN Chief Executive and Curator, Dr Susan Kay-Williams and RSN Senior Lecturer, Amy Hare, to hear fascinating and inspiring lectures on topics ranging from Embroidered Accessories from our Collection to illustrated talks with key RSN associates who are all celebrating significant milestones in their lives of stitching this year, as well as Guest Speakers. Talks cost £5.

From Page to Frame: Meet Gifted RSN Authors
Dr Susan Kay-Williams, Wednesday 8 December 2021, 7pm UK GMT
People's Choice RSN Collection Talk: Underwear & Nightwear
Amy Hare, Wednesday 12 January 2022, 7pm UK
For more information including how to book please follow the link-
https://royal-needlework.org.uk/events-exhibitions/online-talks/live-online-talks/
---
We invited Elizabeth Almond to run her "Sacred Geometry" Workshop at our November meeting. We were very inspired by her wide knowledge and input of ideas , and loved to see all her wonderful samples of stitchery. We all spent a most enjoyable day hand designing and hand sewing. There are some photos of the day to view here……
---
Our October meeting in All Hallows Centre was a very sociable day within the perimeters of social distancing and was enjoyed by all. At the AGM we voted in new Co-Chairs- Michele King and Kim Parkman, and also welcomed our new Secretary- Patti Owen. The AGM was followed by a very interesting and informative Talk by Nawal Gebreel on the Textiles of Afghanistan. We have some photographs from the day here….
---
"Paintings to Stitch" Christmas Competition
This is just to remind you about our 'Paintings to Stitch' competition.
You will receive a postcard from Sarah in the mail and you can create a hand and/or machine stitched/quilted/appliquéd etc piece of any size inspired by it and that will be your entry for the Christmas Stitch competition in December.
Here are some questions you might have:
Do I have to reproduce the painting?
No. You might choose to reproduce a small detail from it e.g. a fruit bowl, a hat etc but it is not actually required.
I don't like my painting, what should I do?
If you are uninspired by your picture, here are some things you could do:
Take the same colours and produce something completely different.
Use the same theme but in your own way e.g. if it is a boat or a seaside painting, do one completely of your own that bears no resemblance to the painting except in its theme.
Take the clothes from the figures and produce a piece that depicts a dress, a washing-line with the clothes on it, or clothes of your own design.
Produce a piece with a face if your painting has faces – it could be your own!
Ignore the figures and if your painting has a countryside background, make a piece with a landscape of your own choosing and no figures at all.
Do I have to send my finished piece anywhere?
No. If the Christmas party is an in-person event, you will bring it with you so everyone can vote for the winners. If it is on Zoom, you'll be told well in advance and you can send in a photo of it and we'll all vote online as we did last year, announcing the winners at the Christmas Party zoom event.
What should I take away from this information?
Basically, any influence or inspiration, even "I hate this picture!" is a valid response to a painting and we'll be thrilled to see whatever you produce.
Lastly, look out for your postcard in case it gets mixed up and thrown out with junk mail!!
---
A small select group joined Maggie Pearson on Saturday 17th July for a ZOOM Workshop "Natural Dyes and Botanical Printing" Thanks to Michele for some photographs of the day, which you may view here.
---
Preston Threads have a very inspiring exhibition taking place from 7th July – 27th August in the PR1 Gallery, Victoria Building, Victoria Street, Preston, PR1 7HD. The exhibition is a celebration of the cotton mills and the imprints of the industry on the landscape, local communities and social history. We happened to visit on a Meet the Makers day, which was wonderful as we got to learn first hand much of the history of the pieces. This exhibition is well worth a visit and in the meantime here are some photos of the work…..
---
We visited "Ragtime" textile exhibition in Frodsham on a lovely sunny day. This exhibition is in Castle Park Arts Centre until 7th August 2021 and no pre booking required. You can also have a delicious lunch or afternoon tea while you are there to make a day of it! The work was colourful and cheerful, on a theme of Art Nouveau and Art Deco and you may have a look at some photos of the work here……
---
Some of our committee are taking advantage of the sunshine with a coffee morning at Liverpool Cathedral. It was glorious!
---
There is a lovely write-up about NW Regional Day 2021 in the April edition of CONTACT. Read all about it here! https://www.megonline.co.uk/nw-regional-day-write-up/

---
North West Regional Day 2021
Saturday 24th April 2021.
Our first ever Virtual North West Regional Day was a triumph! We had 112 people registered and 103 attendees on the day, which was enjoyed by all. Our Speakers – Linda Miller, the acclaimed Machine Embroidery artist, and Michele Carragher, Principal Costume Embroiderer for Game of Thrones were magnificent. They both shared their work and were a great inspiration to us all. The Rose Bowl and Aurifil competition entries were up to the usual high standard and the winners were announced at the close of the day. The Rose Bowl was won by Sandra Kendal from North Lonsdale branch with PSYCHEDELIC LOVE and the Aurifil Award for Excellence was won by Diane Moore from Merseyside branch with A GLIMPSE OF VENICE. Congratulations to all the winners! Have a look at all the comments and reactions, also the Raffle Prize winners here https://www.megonline.co.uk/nw-regional-day-2021/
---