Our new group has welcomed many of the former MEG members and we also look forward to welcoming new members from all walks of life with an interest in any type of stitchery or a desire to learn all about what we do. Whatever your textile and stitch craft interests are, or levels of ability, the varied programme and opportunities offer something for everyone. Read more some About Us here. Or Membership Registration here.
Next meeting will be held on-

Saturday 9th December 2023
11.30am -1.30pm Please note the change of time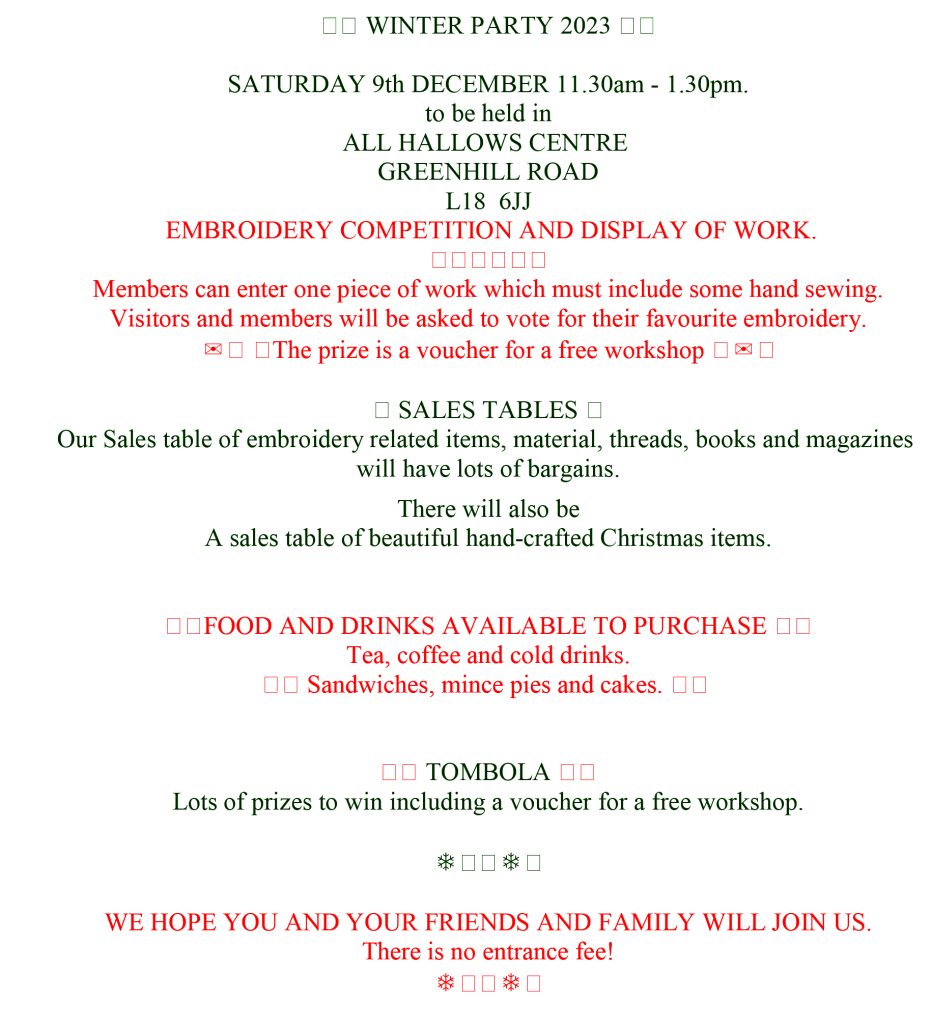 ---
Members may be interested in this local craft event
We have been asked to decorate a Christmas tree for the All Hallows festive season. The theme this year is 'Follow the Star: Join the Song'. As you can imagine, the decorations will all be stars this year, although some musical additions would be welcome, too. The tree will remain in the church throughout the Christmas period and will be returned to the group in the New Year at our first meeting. We are awaiting confirmation, but it is hoped that All Hallows will allow us to display the finished tree at the Winter Party on 9th December.
If you would like to take part please follow the link for full instructions.
---
At last we can see the completed banners for Merseyside Expressive Stitchers' group. Many thanks go to all members who embroidered the beautiful squares, and thanks to those members who spent hours assembling the banners and doing the final stitching towards completion. We are very happy with the final result.
---
Following our AGM and shared lunch on Saturday 21st October we had an interesting talk from Wirral based textile artist Mary Bryning. She was recently involved in the COVID exhibition held at Williamson Art Gallery, Birkenhead, and her work explores her interest in embroidering maps of her local area. Click the link to see some more work from Mary Bryning here …
---
Meeting Dates for 2024
All of the proposed dates are on a Saturday, but the timings and venue will not be confirmed until after our AGM in October.
Saturday 20th January 2024
Saturday 17th February 2024
Saturday 16th March 2024
Saturday 20th April 2024
Saturday 18th May 2024
Saturday 15th June 2024
Saturday 20th July 2024
Saturday 17th August 2024
Saturday 21st September 2024
Saturday 19th October 2024
Saturday 23rd November 2024: this date will be for the Winter Social, as all December dates are booked at All Hallows. We hope to have a special session in December, and will confirm details later.
---
Sunday 30th July 2023 was World Embroidery Day
---
Beverley Saville came to Merseyside Expressive Stitchers' Group on two consecutive Saturdays with her "Create a Textile Collage" workshop. Those who attended had fun creating a fabric background and then a decorative floral foreground with her expert assistance. We have some photographs to show you. Have a look at Workshops and Talks 2023 on the headings bar.
---
We had an interesting talk by Elizabeth Shelbourne recently. "From Stitch to Stage" told the story about Liz's journey into theatre costume design. If you couldn't be there we have some photos to see here…
---
A popular tutor returned to Merseyside Expressive Stitchers' Group this March. Elizabeth Almond led a hand stitching workshop entitled "Calico Gardens Embroidery", which was enjoyed by all who attended. We have some photographs of the day to view here
---
For further information about our fund raising event for Sreepur please click on the link
---
We spent a very enjoyable day playing with sari silk on the "Creating with Sari Silk" workshop led by Diane Moore. We will create small decorative pouches, but so far everyone has a work in progress. Looking forward to seeing the finished pouches! We have some photographs of the day available here….
---
---
Our new 2023 Programme is ready to view here. We will continue to update it so keep looking!
---
Saturday 30th July was World Embroidery Day

. To mark the occasion some of our Merseyside Expressive Stitchers' Group members got together for a "Sip n Stitch". They had fizz, cake and tea, and a thoroughly enjoyable afternoon nattering – not much stitching done but lots of fun and laughter!
---
Some of our committee are taking advantage of the sunshine with a coffee morning at Liverpool Cathedral. It was glorious!
---
There is a lovely write-up about NW Regional Day 2021 in the April edition of CONTACT. Read all about it here! https://www.megonline.co.uk/nw-regional-day-write-up/

---
North West Regional Day 2021
Saturday 24th April 2021.
Our first ever Virtual North West Regional Day was a triumph! We had 112 people registered and 103 attendees on the day, which was enjoyed by all. Our Speakers – Linda Miller, the acclaimed Machine Embroidery artist, and Michele Carragher, Principal Costume Embroiderer for Game of Thrones were magnificent. They both shared their work and were a great inspiration to us all. The Rose Bowl and Aurifil competition entries were up to the usual high standard and the winners were announced at the close of the day. The Rose Bowl was won by Sandra Kendal from North Lonsdale branch with PSYCHEDELIC LOVE and the Aurifil Award for Excellence was won by Diane Moore from Merseyside branch with A GLIMPSE OF VENICE. Congratulations to all the winners! Have a look at all the comments and reactions, also the Raffle Prize winners here https://www.megonline.co.uk/nw-regional-day-2021/
---