---
February 2020 – update on the quilters of Bath
Fifteen years ago Rubina Porter MBE gave a talk about Sreepur to a group of quilters in Bath. This week she received yet another cheque for £365 from Ena and her four friends. Each year they raise money for Sreepur amounting to many thousands of pounds. Their dedication and generosity is very much appreciated.
January 2020 – update on Dyffryn Clwyd Quilters
 Rubina Porter MBE would like to thank  Pippa and members and friends from Dyffryn Clwyd Quilters who have raised the magnificent sum of £750 for the Sreepur Village. Ruby gave a talk to this group some time ago, and they are all so kind
January 2020 – Sreepur Orphanage celebrates 30 years
There was a wonderful double page article in the Daily Express on Saturday 4th January 2020 about ex-stewardess Patricia Kerr setting up Sreepur Orphanage 30 years ago.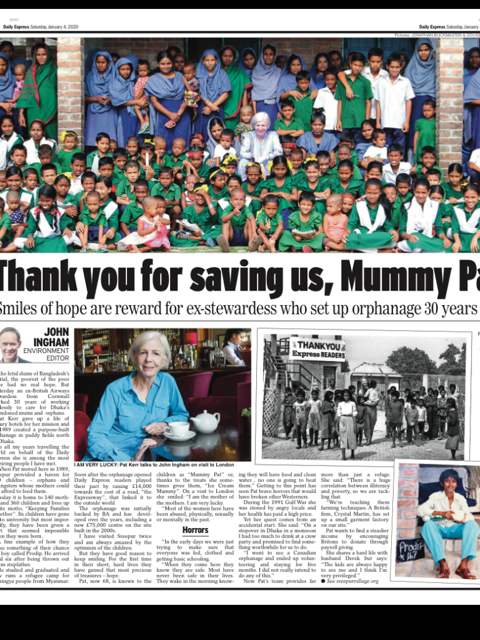 How it all started 30 years ago
Here are some photographs from the early days of Sreepur Orphanage
Thank you to all our members and friends for all the support they have given to me over the last 30 years. Rubina Porter M.B.E.
---
January 2020 – news and updates
Happy New Year to you all.
This is a photograph of a Sreepur quilt on display in St. Theresa's Church, Birkdale which was taken in the summer,
Ruby would like to thank Isabel for all her hard work raising over £6000 for Sreepur. The money was raised by the Cheshire Churches Harvest Festival Campaign 2019. A very big thank you to all concerned.