Welcome to Merseyside Embroiderers' Guild
The next meeting of Merseyside Embroiderers' Guild is on 14th March 2015.
There will be a special Bring & Stitch session from 11am – 1pm on Saturday 14th March 2015 in All Hallows Church Hall, Greenhill Road, L18 6JJ.
Merseyside Embroiderers Guild has purchased a new embellisher machine which may be used by members, and we will have two machines available for demonstrations and for having a go.
If you have an embellisher that you would like to bring along, please do – or come and see what is happening.
There will also be a Talk from 2pm – 4pm on the same afternoon by  3 members From Parbold EG.
Visitors Welcome & refreshments available.

Cost-  Bring & Stitch 11am-1pm FREE, afternoon Talk 2pm-4pm – members £3 and visitors £5
 Merseyside Young Embroiderers submitted a Group Entry to the de Denne Competition. This is a national embroidery competition (named after the founder of the Young Embroiderers section of the Embroiderers Guild). The theme for 2015 was "All that Glistens", and Merseyside YE embroidered "The Golden Fleece" which is a golden ram with golden horns (photograph will follow soon). The entries have been judged and Merseyside YE has won FIRST PRIZE. Congratulations YE!
We had a lovely day today at Richard Box's "Poppies" workshop. If you were not able to attend and would like to see what we achieved- then go to PROGRAMME→WORKSHOPS & TALKS 2015 page for lots of photos………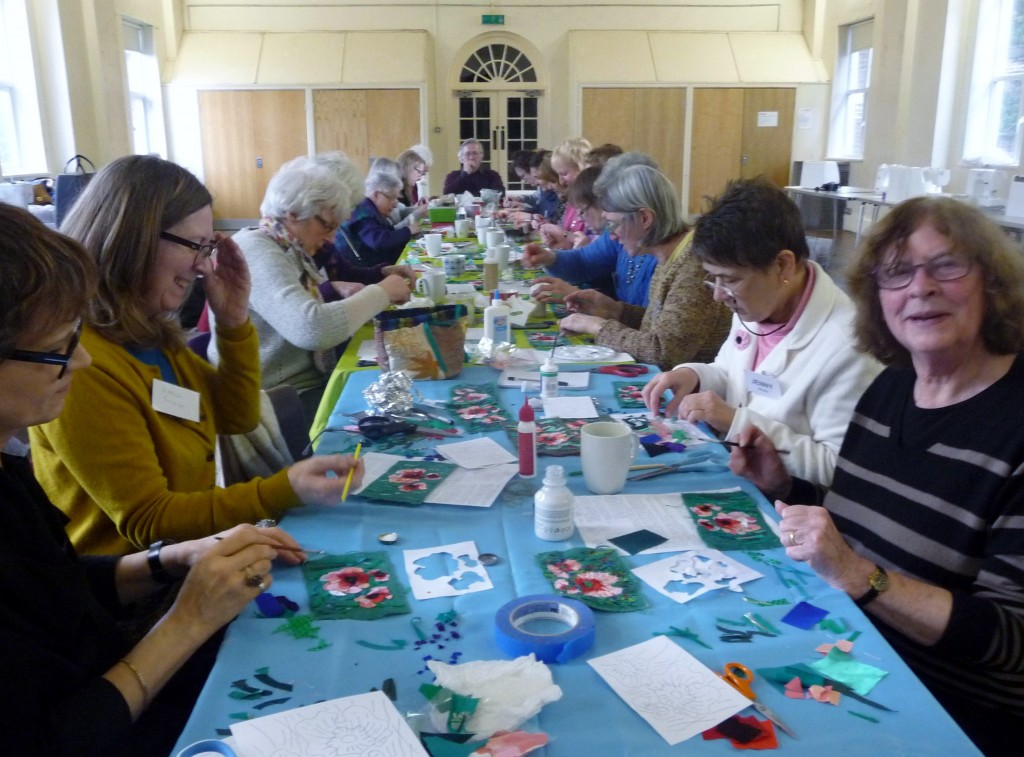 Some of us went to Denbigh to see a lovely textile exhibition by CHIMERA Textile Group who are all members of North Wales Branch of the Embroiderers Guild. You can see some photos of their work on OTHER EXHIBITIONS page, but here is a little preview….
We would like our MEG members to design a LOGO please. You can use any method to design it, such as drawing, painting, hand embroidery, machine stitch – in colour or in black & white. Size must be 3in(7.5cm) square or a circle 3in (7.5cm) diameter. Entries will be judged at our Summer Tea Party on 16th May 2015, with a prize for the winner. Please see EMBROIDERY CHALLENGES page for poster and lots of info…….
Merseyside Embroiderers Guild will soon be in need of a

Secretary

and a

Treasurer

to serve on the committee, as these posts  will become vacant in October 2015. Both Sarah and Karen have come to the end of their terms of office. If you would like to find out more about these roles, or would like experience of serving on the committee please contact

our Chair Kim Parkman

chairman@megonline.co.uk

, or Karen Scott (Treasurer)

treasurer@megonline.co.uk

or Sarah Lowes (Secretary)

secretary@megonline.co.uk
Next dates for Sreepur stall and Ruby Porter MBE. She will be at Liverpool Anglican Cathedral, St James Mount, Liverpool L1 7AZ, 2nd – 6th March 2015 from 11am- 4pm each day
Ruby Porter MBE has just announced an exciting  new range of products from Sreepur Village, Bangladesh. This is the ecoRecycle range, and you can see more photos and information on the SREEPUR REFUGE → SREEPUR NEWS 2015 page………
FLOWER GOD, GOD OF THE SPRING
Flower god, god of the spring, beautiful, bountiful,
Cold-dyed shield in the sky, lover of versicles,
Here I wander in April
Cold, grey-headed; and still to my Heart,
Spring comes with a bound,
Spring the deliverer,
Spring, song-leader in woods, chorally resonant;
Spring, flower-planter in meadows,
Child-conductor in willowy
Fields deep dotted with bloom, daisies and crocuses:
Here that child from his heart drinks of eternity:
O child, happy are children!
She still smiles on their innocence,
She, dear mother in God, fostering violets,
Fills earth full of her scents, voices and violins:
Thus one cunning in music
Wakes old chords in the memory:
Thus fair earth in the Spring leads her performances.
One more touch of the bow, smell of the virginal
Green – one more, and my bosom
Feels new life with an ecstasy.
                                 Robert Louis Stevenson