Home page of Merseyside Embroiderers' Guild

Find us on Facebook, then LIKE us, SHARE and FOLLOW!
Next meeting-
will be held on
Saturday 20th October 2018
Plan for the day-
11am – 1pm. Bring & Stitch FREE Visitors welcome

1pm – 2pm. Lunch. Please bring your packed lunch. Tea & coffee are available.
2pm -4pm Merseyside Branch A.G.M. followed by a Talk by Gill Roberts "My Journey in Stitch". Gill's Talk will be about how she started embroidery, got into dressmaking, trained as a corset maker and then some of the things she has done since. It will include the Liverpool Tapestry, starting Belladonna & Roses and some stories about commissions & customers. Gill will bring examples of her work, explain where her inspiration for pieces came from. It will be thoroughly entertaining! Members £3/ Visitors £5. Visitors welcome to the Talk.
All TALKS & WORKSHOPS are held in All Hallows Centre, Greenhill Road, Liverpool L18 6JJ (Unless otherwise stated)
---
If you have spare time why not consider Distance Learning? Embroiderers' Guild run a variety of courses to suit all abilities. Have a look here for all the details….
---
We have photographs!! Photos of all the exhibits from our recent sensational Endeavour exhibition may be viewed here…
Mal Ralston won the Visitors Vote at our recent Endeavour exhibition for her beautiful hand stitched embroidery MAORI MAN. Margaret Crichton was in 2nd place with ROSELLA BIRD. Congratulations to both!
---
---
Chair's Chat for October is available, just follow the link
---
The 100 Hearts exhibition has now started in Liverpool Cathedral. It continues until 7th October 2018. Have a look here to see some of the pieces featured but it is well worth a visit.
Please note-
All members were sent an email recently from EG HQ about paying annual subscriptions by Direct Debit. This email is misleading and does not apply to our members. Please continue to pay your annual subscription in the usual way. CEO Terry Murphy says-
This email is a mistake, not a scam. There is no breach of data security. It is a fall-out from our testing prior to going live with a new database. We are learning as we go along and, for us, commissioning the new database is in addition to the 'day job'. Kirsten's name appears on the email and, in common with all automated systems, will do so even when she is on leave or ill. In such circumstances her phone and inbox is monitored by other members of staff. Members can be reassured that there is no question of the Guild taking or being able to take a payment by DD unless we have a clear mandate to do so. Apologies to all.

---
The 70273 Project.
If you would like to become involved with this project to make blocks to commemorate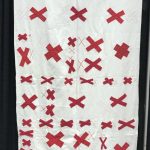 70273 physically and mentally disabled people who were murdered by the Nazis between January 1940 and August 1941, please click here or here for more information about the project. There will be an exhibition of quilts made from these blocks in St Bride's Church, Percy St, Liverpool L8 7LT on Holocaust Memorial Day 27th January 2019.
---
CONTEMPORARY THREADS, a new textile arts group based in Liverpool
A group of stitchers who are members of the Quilters Guild and/or Embroiderers Guild have set up a new textile arts group,
Contemporary
Threads, which will meet at St Bride's, Percy Street, LIVERPOOL L8 7LT in central Liverpool on the first Saturday of each month, from 10am – 2pm.
Any stitchers who are interested in textiles and mixed media are welcome to join. The aim of the group is to provide mutual inspiration for creating beautiful pieces; to encourage each other to stretch ourselves; and to share ideas and techniques. We also aim to arrange occasional workshops and speakers.
---
NW Regional Day 2018 was held in Leyland on Saturday 21st April 2018 and Merseyside Young Embroiderers' won First, Second and Third prizes in the YE Kathleen Mansfield Award!! Well done Merseyside YE!! And congratulations to our YE Leader Val Heron!! Have a look at some photos of the day here….
---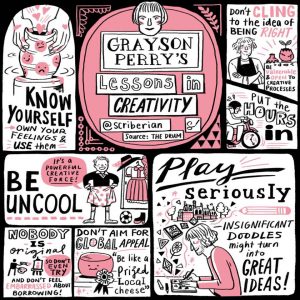 ---
Dilys Parry, one of our members, generously organised a trip to Kendal on Saturday 3rd
June to view the Quaker Tapestry. We had a very enjoyable day with sunshine all the way! The Quaker Tapestry Exhibition Centre staff were very friendly and informative, and the cafe served delicious food as well! Unfortunately we were not permitted to photograph any of the embroideries, but many thanks to Gill Roberts for the lovely photographs of our group.
---
Please note-
Copyright of uncaptioned images is that of the creators, in all instances the names are known to Embroiderers' Guild
---