Welcome to Merseyside Embroiderers' Guild !
The next meeting of Merseyside Embroiderers' Guild is on 17th January 2015.
Exciting News Jan 2015 Bring and Stitch
 Merseyside Embroiderers Guild January Talk
      "Stitching Wider Horizons- embroidery with Sight Problems" by Marie Stacey and Teri Holmes  will be held from 2pm-4pm on Saturday 17th January 2015 in All Hallows Church Hall, Greenhill Road, Liverpool L18 6JJ cost £3 members/ £4 visitors.
Visitors Welcome
We had a lovely day at our MEG Christmas Party on 6th December 2014, and we had a visit from the new NW Regional EG Chair Val Coleshaw. There are lots of photos to see on GROUP EVENTS → CHRISTMAS PARTIES
There is a lovely new book available to buy (ideal for Christmas presents)  titled  "Hidden Lives:Leek's Extraordinary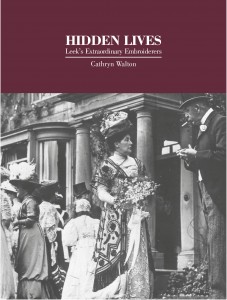 Embroiderers. This book tells the story of the women who stitched for the Leek Embroidery Society, a story never before told. It is 249 pages long and contains hundreds of photos. Check out BOOK REVIEWS – EMBROIDERY BOOKS to see details of how to purchase it at a bargain price of £17 directly from the author.
Would you like to have a look at some photos from our latest MEG workshop "Lets Print"? You will find them on TALK & WORKSHOPS 2014 pages under the PROGRAMME heading………
Underground Xmas
Out of the packed train comes a horizontal tree, pine
needles poking through tight
plastic wrap. She's wearing
a raincoat and a frown, the blue spruce
hugged in her strong arms like a Roman battering ram.
Commuters step aside, all sighs and clucks.
This woman loves someone enough
to bring them Christmas on the subway, wrestle
a tree twice her height through tongue-
sucking rush-hour crowds.
The sharp holiday
scent of pine enlivens the last car of the C train,
trails her to the 50th Street escalator,
where she juggles the pungent
tree on her hip, ascending.
by Jackie Sheeler