This is the Home page of
Merseyside Embroiderers' Guild 

1956 – 2016

The next meeting of Merseyside Embroiderers' Guild is on Friday 19th August 2016
We will have a Talk by Richard Box, who is a well-known and well-loved textile artist and tutor. The Talk will be held in All Hallows Church Hall, Greenhill Road, L18 6JJ and will begin at 7.00 pm prompt. Cost £3 members and £5 visitors. You may book a place by emailing Helen at  coursebooking@megonline.co.uk or you may pay on the door.
Saturday 20th August 2016 from 10am- 4pm;
We will have a Workshop with Richard Box "Daisies" (as seen on the recent MAKE! Craft Britain programme on BBC 4). Richard Box will show us how to make a daisy collage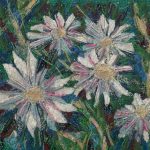 using hand and machine stitching. Cost £20 members and £25 visitors. Booking essential. To book a place on this Workshop contact Helen at coursebooking@megonline.co.uk. This Workshop will be held in All Hallows Church Hall, Greenhill Road, Liverpool L18 6JJ.
Visitors welcome to Talk and Workshop!
---
Glorious Colour- an evening with Kaffe Fassett
 2nd December 2016 at 7 pm in Capstone Theatre, Shaw St, Liverpool L6 1HP. The Kaffe Fassett Lecture is designed to inspire and motivate. The presentation highlights work from Kaffe's latest projects, including his patchwork quilt, fabric, needlepoint, mosaic, painting and knitting designs and it will inspire you to create.
Please note:- Tickets will not be available to buy on the door.
Members – buy your tickets from Helen- coursebooking@megonline.co.uk. 
Visitors- buy your tickets for the Kaffe Fassett event here-
Message to everyone attending Kaffe Fassett Workshop. If you would like to buy Kaffe Fassett's Quilts in Morocco book it is cheaper at Amazon Books UK. Click on the link to have a look.
---
Karen Scott had her Degree ceremony on 19th July 2016 in Liverpool Anglican Cathedral. She was awarded a BA(Hons) Art & Design from Hope University. Photos and a video link to the degree ceremony can be seen here….
Congratulations Karen and Good Luck for  the future!
We have been on a very interesting backstage visit to Everyman Theatre, Liverpool today. If you would like to have a look at what we saw there just click on the link…
---
We went to MakeFest in Liverpool Central Library during June and made some brooches using plastic canvas with lots of members of the public. We also told them all about told them all about MEG. Hoping for some new faces at our meetings in future!
---
Textile Art Group have an exhibition of embroidery in Royal Armouries Museum. Armouries Drive, Leeds LS10 1LT. The exhibition " Blossom & Blades" continues until 30th October 2016. The exhibition is inspired by Japanese Samurai armour in the museum collection and is well worth a look. Hilary went to visit and there are lots of photos here
---
On Saturday we had a welcome visit from some members of Macclesfield EG who came to share their stitching journey and experiences with us. There are some lovely photographs of their work on Talks & Workshops page, or click here to see them….  Norma Heron was also presented with a gold badge and certificate for 50 years as a member of our branch. Congratulations Norma!
---
"60 Glorious Years"
Our very successful MEG exhibition "60 Glorious Years"  held in the magnificent setting of Liverpool Cathedral has now ended. However we have photographs of all the exhibits on MEG Exhibitions page or click here to view them…..
---
A Legacy of Stitches



A Legacy of Stitches is what we leave behind;





the imprint of our very soul that lasts beyond our time.





The heart that quilts knows, oh, so well the peace that can be found,





as needle meets with fabric, for there is no sweeter sound.





Whether quiet piecing done by hand or on our sewing machine,





there's rhythm to our stitches as we sew along each seam.





Those stitches tell the story of our lives as they unfold





as we think of quilts that Grandma made with stories left untold.





The humdrum of our daily lives grows elegant and grand,




 when we start to cut the pieces, then stitch the fabric in our hands.





And whatever is the reason for the quilts we piece and sew,





and whoever is the maker, there is one thing that we know.





Each quilt is full of memories, and is a treasured thing.





If quilts could talk, imagine how some quilts would surely sing!





For some quilts are sewn in happy times and others when we're sad,





and some are sewn in laughter and others when we're mad.





Some are sewn to warm us, and some sewn just for fun,





and some are "works in progress" that never quite get done!





Some quilts are sewn for beauty, a quilt made just for "show",





but the heart of the true quilter is the one who really knows~





That no matter how the quilt is stitched, we leave our mark in time.





This Legacy of Stitches is what we leave behind.



© Sandra E. Andersen 2001-2012
---