Welcome to Merseyside Embroiderers' Guild !
The next meeting of Merseyside Embroiderers' Guild is on 6th December 2014.
 Our Annual Christmas Party will be held from 2pm – 4pm in the Unitarian Church Hall, Ullet Road, Liverpool L17 2AA. £3 admission Visitors Welcome.
We will have Traders, Sales Table, Home-made Cake Stall, YE display and Competition, Traditional Embroidery Competition, Christmas Make & Take, Prize Raffle and Christmas Buffet, in a beautiful setting with a log fire.
There is a lovely new book available to buy (ideal for Christmas presents)  titled  "Hidden Lives:Leek's Extraordinary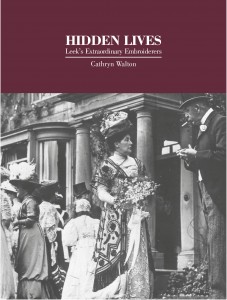 Embroiderers. This book tells the story of the women who stitched for the Leek Embroidery Society, a story never before told. It is 249 pages long and contains hundreds of photos. Check out BOOK REVIEWS – EMBROIDERY BOOKS to see details of how to purchase it at a bargain price of £17 directly from the author.
Would you like to have a look at some photos from our latest MEG workshop "Lets Print"? You will find them on TALK & WORKSHOPS 2014 pages under the PROGRAMME heading………
There is an exhibition of fabulous costumes worn in Downton Abbey until January 2015 in Lady Lever Gallery, Port Sunlight Village. We have some photos of the exhibition on OTHER EXHIBITIONS page, but here  is a little preview……
"November" by Thomas Hood
No sun–no moon!
No morn–no noon!
No dawn–no dusk–no proper time of day–
No sky–no earthly view–
No distance looking blue–
No road–no street–
No "t'other side the way"–
No end to any Row–
No indications where the Crescents go–
No top to any steeple–
No recognitions of familiar people–
No courtesies for showing 'em–
No knowing 'em!
No mail–no post–
No news from any foreign coast– No park–no ring–no afternoon gentility–
No company–no nobility–
No warmth, no cheerfulness, no healthful ease,
No comfortable feel in any member–
No shade, no shine, no butterflies, no bees,
No fruits, no flowers, no leaves, no birds,
November!