Home page of Merseyside Embroiderers' Guild

The next meeting of Merseyside Embroiderers' Guild is on Saturday 19th August 2017

11am – 1pm "Bring & Stitch" plus Sales Table

2pm – 4pm TALK by Glossop E.G. "Sharing Good Practice" This will be an enjoyable afternoon listening to good ideas from colleagues across our region and seeing a range of their work. Cost £3 members/ £5 visitors Visitors welcome!
All Talks and Workshops are held in All Hallows Centre, Greenhill Road, Liverpool L18 6JJ (unless otherwise stated)
---
Sarah Lowes has written and is starring in a series of four monologues "Modern Myths", which are modern tales based on old traditional fairy stories. The shows take place 19th and 20th July 2017 in 81 Renshaw St, Liverpool L1 2 SJ. Read all about it on Members Achievements or just click here….
On Saturday we had a very interesting workshop with Kathryn Thompson where we made Yubinuki or Japanese Thimbles. If you would like to see how we got on just click here…
There is a solo art & textile exhibition by Sue Boardman "Inside the Envelope" in Ness Botanic Gardens from 9th – 16th July 2017. We have lots of photos available to see here, or have a look under the OTHER EXHIBITIONS heading…
Have a look at the recent copy of SEW region EG magazine here. Articles about EG collection in Bucks Co museum and Opus Anglicanum exhibition among other things. Very interesting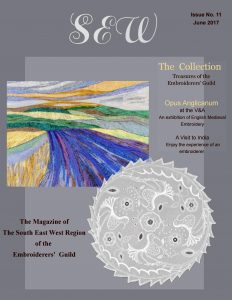 ---
We had a very inspiring Talk by Caroline Fogell from Project Linus on 17th June. She gave us lots of ideas for how to use our spare wool and fabrics to help others. Some photos here and we will also soon have a report of the day.
---
Dilys Parry, one of our members, generously organised a trip to Kendal on Saturday 3rd
June to view the Quaker Tapestry. We had a very enjoyable day with sunshine all the way! The Quaker Tapestry Exhibition Centre staff were very friendly and informative, and the cafe served delicious food as well! Unfortunately we were not permitted to photograph any of the embroideries, but many thanks to Gill Roberts for the lovely photographs of our group.
---
Ruby Porter MBE and her husband Ken were invited to a service attended by the Queen in St Paul's Cathedral on 24th May. Have a look at a report of the event and more pics on Sreepur Refuge page
---
Our 2017 Colour Competition was also judged by public vote at the party, and the winner of the Edna Billiston Glass Vase was Mal Ralston with her lovely embroidery entitled RAZZLE DAZZLE FERRY. To see all the entries to this year's Colour Competition follow this link…
---
---
The Road Not Taken by Robert Frost
Two roads diverged in a yellow wood,
And sorry I could not travel both
And be one traveller, long I stood
And looked down one as far as I could
To where it bent in the undergrowth;
Then took the other, as just as fair,
And having perhaps the better claim,
Because it was grassy and wanted wear;
Though as for that the passing there
Had worn them really about the same,
And both that morning equally lay
In leaves no step had trodden black.
Oh, I kept the first for another day!
Yet knowing how way leads on to way,
I doubted if I should ever come back.
I shall be telling this with a sigh
Somewhere ages and ages hence:
Two roads diverged in a wood, and I-
I took the one less travelled by,
And that has made all the difference.
---