Home page of Merseyside Embroiderers' Guild

Find us on Facebook, then LIKE us, SHARE and FOLLOW!
The next meeting of Merseyside Embroiderers' Guild is on Saturday 21st July 2018

Our next meeting is on Saturday 21st July 2018.
11am – 1pm Bring & Stitch. FREE Visitors welcome!
2pm – 4pm Talk by Emma Summer " South Asian Embroidery Traditions & Contemporary Practice" Emma is a local speaker, now living in Bangladesh, and she will show us examples of Bangladeshi embroidery. Cost £3 members & £5 visitors Visitors welcome!
All TALKS & WORKSHOPS are held in All Hallows Centre, Greenhill Road, Liverpool L18 6JJ (Unless otherwise stated)
N.B. Please bring any completed geometric patterned rectangles for the exhibition cloak to this meeting. The deadline for completing these pieces is 31st July to allow time for the cloak to be assembled in time for exhibition.
---
Come and visit Ruby Porter MBE and her Sreepur stall in Liverpool Cathedral, St James Mt, Liverpool L1 7AZ from 19th – 24th July 2018 and support a worthwhile cause helping destitute women and children in Bangladesh

---
R.I.P.
Thursday 12th July

It is with regret we have to announce the sad death of Marie Stacey, one of our valued members. She died peacefully this morning in a hospice with her partner David at her side. Our thoughts are with her family at this sad time.
---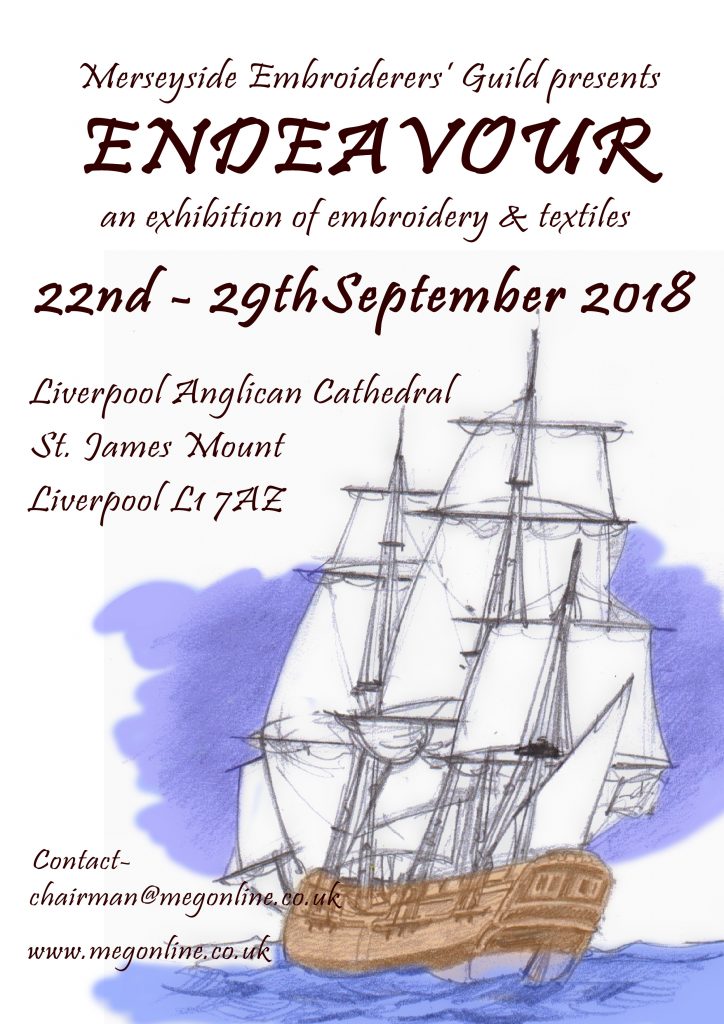 ---
Chair's Chat for July is available, just follow the link
---
The 70273 Project.
If you would like to become involved with this project to make blocks to commemorate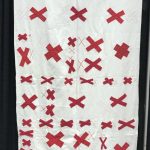 70273 physically and mentally disabled people who were murdered by the Nazis between January 1940 and August 1941, please click here or here for more information about the project. There will be an exhibition of quilts made from these blocks in St Bride's Church, Percy St, Liverpool L8 7LT on Holocaust Memorial Day 27th January 2019.
---
CONTEMPORARY THREADS, a new textile arts group based in Liverpool
A group of stitchers who are members of the Quilters Guild and/or Embroiderers Guild have set up a new textile arts group,
Contemporary
Threads, which will meet at St Bride's, Percy Street, LIVERPOOL L8 7LT in central Liverpool on the first Saturday of each month, from 10am – 2pm.
Any stitchers who are interested in textiles and mixed media are welcome to join. The aim of the group is to provide mutual inspiration for creating beautiful pieces; to encourage each other to stretch ourselves; and to share ideas and techniques. We also aim to arrange occasional workshops and speakers.
---
Bolton EG judged our 2018 Colour Competition today and the winner was Beryl Webster with a beautifully embroidered scene. Congratulations Beryl! To see all this year's Colour Competition entries along with Beryl's winning entry just click here…

---
MEG YE Leader Val Heron was presented with a gift at our June meeting to mark our Young Embroiderers' great success at the recent NW Regional Day 2018. they swept the board and won 1st, 2nd and 3rd prizes in their competition! Well done to all!
---
June edition of Chair's Chat available… just click here!
---
Notes from the recent visit of Terry Murphy to MEG are available on Chair's Chat page… or click here...
---
NW Regional Day 2018 was held in Leyland on Saturday 21st April 2018 and Merseyside Young Embroiderers' won First, Second and Third prizes in the YE Kathleen Mansfield Award!! Well done Merseyside YE!! And congratulations to our YE Leader Val Heron!! Have a look at some photos of the day here….
---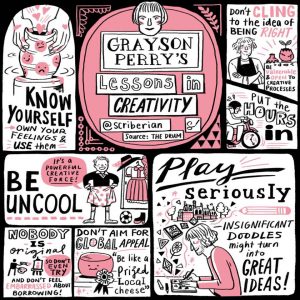 ---
Dilys Parry, one of our members, generously organised a trip to Kendal on Saturday 3rd
June to view the Quaker Tapestry. We had a very enjoyable day with sunshine all the way! The Quaker Tapestry Exhibition Centre staff were very friendly and informative, and the cafe served delicious food as well! Unfortunately we were not permitted to photograph any of the embroideries, but many thanks to Gill Roberts for the lovely photographs of our group.
---
Please note-
Copyright of uncaptioned images is that of the creators, in all instances the names are known to Embroiderers' Guild
---