Young Embroiderers are members of The Embroiderers' Guild aged 7 – 17 years. We meet monthly in Womens' Hospital, Crown Street, Liverpool, L8 7SS.
November 9th 2019
Seven young embroiderers joined us today as we started on our Speke Hall joint project. Cotton fabric was painted green with silk paint to provide a background for flowers and trees. Once dried it was hand embroidered using small stab stitches or french knots. The girls could draw their own designs if they wished,using pencil ,paint or pens or use prepared pieces of fabric.We explained that the Tudors  didn't worry too much about scale and this encouraged them to draw creatures and plants together. They learned how to use fabric paints and pens and a light box to copy designs.  This was a busy and productive session and it was lovely to see how well the girls worked together on a joint project.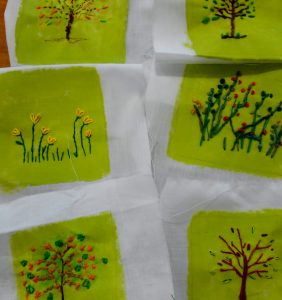 Our next meeting will be at the MEG Christmas fair at All Hallows on Saturday 7th December 11-1500. This will replace the December session at the Womens' Hospital. All welcome.
October 12th
We had a lively session today with eight young embroiderers enthusiastically stitching away. The more experienced girls made a needlecase in the form of a tudor lady. This was mainly felt and decorated with lace , braid and stitching.
One youngster had joined us for the first time today, but was soon engrossed doing backstitch on binca and following the chart of a castle without any problems. The other girls made tudor roses out of felt which will be added to the roses made over the summer and  assembled as a rose bush. One speedy sewer then went on to learn chain stitch, so it was a busy and productive session.
Next meeting November 9th.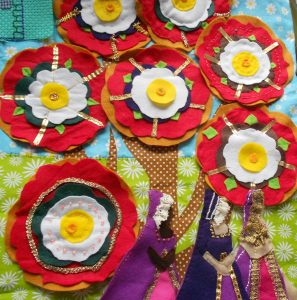 We are back from our summer break and ready to do lots of new embroidery. Mal, our YE Leader was away today, so we had Hilary and Kathy to lead the workshop. Our 3 regular members made some wonderful castles in coloured blackwork by using a chart and counting the stitches. They enjoyed the challenge and produced some lovely work continuing our Tudor theme. We were very pleased to be joined by 3 new members, Lydia, Carys and Sienna who were helped to do a simpler pattern in coloured blackwork and achieved outstanding results. They are keen to return next month for more embroidery. Next meeting is on Saturday 12th October.
Next meeting September 14th.
June meeting took place on a horribly rainy day and unfortunately two of our young embroiderers were double booked, so that left just two intrepid textile enthusiasts for our last workshop of the session.
This was led by Elsie Watkins who, with the help of her daughter, brought along a plentiful supply of stamps and textile paints,  plastic sheets, kitchen roll and wet wipes, to introduce the girls to printing with blocks. As it was such a small group, there were plenty of materials for Kathy and myself to join in as well. Two hours passed in a blur as we created stamped textile pieces. As ever, they were all completely different and very creative( if a bit heavy on the ink) and everyone enjoyed getting a little messy! I particularly liked the way in which letters could be positioned to form patterns, and some of the colour mixes were lovely.
After a period to allow the pieces to dry, Elsie showed us how to embellish the piece with stitch, and the time passed all too quickly.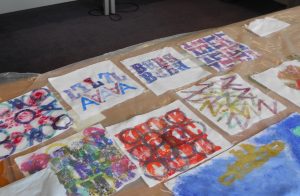 May meeting  saw our four young embroiderers take part in a workshop led by Margaret Crichton, who is a long standing member of the Merseyside branch of the Embroiderers guild. The girls were given a choice of patterned silk, previously backed with cotton for stability, and also provided with an assortment of embellishments including sequins and beads. They could then embroider the silk in a design of their own choosing. It was interesting to see the different pictures emerging, as some used the patterned silk as a background for a name or verse and others picked elements of the pattern to embellish.  They were then shown how to mount the picture into the frame and they all went away happily with a completed( or nearly completed) framed picture.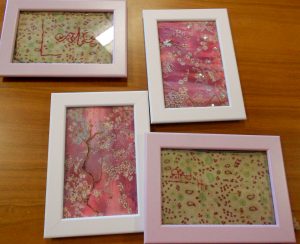 April meeting of the Young Embroiderers took place on Saturday 13th and our workshop was led by Miranda. Our four young stitchers all came along, full of enthusiasm. The theme for this week was Easter egg decorations in felt. Miranda had made some samples as illustrations and the girls were encouraged to develop their own ideas, of which they had plenty. The designs included Peter Rabbit, chickens, trees and flowers. The most popular stitches were running stitch, French knots and blanket stitch.  There was a good selection of embellishments on hand and the ladybird was very popular. All the eggs turned out differently and we were impressed by their design skills, as well as their needlework.
Next meeting May 11th.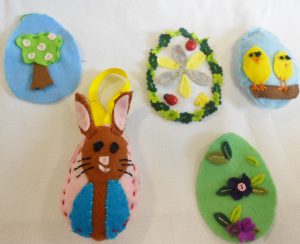 We met with four enthusiastic young embroiderers on March 9th and we were treated to a lovely workshop led by Miranda Farby. We all learned how to do Chicken scratch embroidery on coloured gingham. This type of embroidery is also known as Broderie Suisse or depression lace and is a variation of cross stitch using the squares of the gingham and perle cotton to make a lacy pattern. The girls were pleased to discover how simple straight stitches and cross stitches could form the basis of such seemingly complex designs and all of them completed a small sample to go into the badge and a larger heart to be made into a cushion. A very successful and interesting time was had by all. Next meeting April 13th.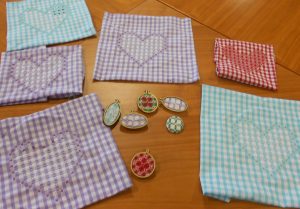 Our February meeting took place on 9th February. Three young embroiderers came along and we made a selection of hair bands and slides using a variety of adornments. We used organza petals which had been shaped by gently passing through a candle flame at home (by an adult!) and layered in different sizes. Decorative stitch was used to attach the petals together and beads to emphasise the centre. The flowers were then firmly attached to the hair band/slide. An alternative type of flower was made by gathering the organza around a beaded centre and there was also strips of silk available to gather for a different effect. The girls were also very inventive with the use of decorative buttons, and they went home with a good variety of hair adornments!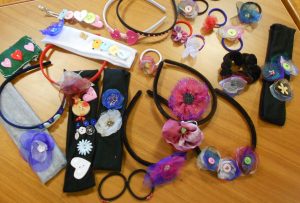 Next meeting 9th March 2019
2019 got off to a good start on 12th January when we met with four young embroiderers to construct and decorate a felt butterfly on a leaf. There was a wide selection of glittery thread, beads and sequins to add to their stitches and it was interesting to see how different all the butterflies turned out (some of them had doubled their weight in sequins, sparkles were very popular!) We were having too much fun to quite finish the butterflies which were intended to hang on a doorknob as adornment, but we hope the girls will bring us the finished piece next time. Next meeting is 9th February.