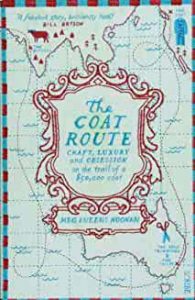 THE COAT ROUTE: Craft, Luxury and Obsession on the trail of a £50,000 coat by Meg Lukens Noonan
This entertaining and instructive book explains the various stages a "bespoke" garment requires to be a real individual item made by real craftsmen. Such garments are thin on the ground in 21st century, due to various reasons. The modern customer requires instant gratification and goods NOW! Few are prepared to wait months for the tailor and other craftsmen to make an individual garment or have the necessary funds.
This thoroughly enjoyable book takes the reader through the various stages a bespoke garment needs to be a "one off". Drafting a pattern, deciding on material and lining plus all the extras make for fascinating reading. The history of buttons and the importance of Halesowen in sartorial life make an interesting chapter.
Prices can be mind boggling but show that not only royalty and the oil rich afford to dress well and are keeping the old customs alive. The author comments on the lack of new blood going into the workrooms and how the present generation of craftsmen may be the last. The waste of materials is also expounded upon.
This is an interesting read with much information about skills not often in the forefront. The author has an easy style and manner.
Scribe Publications 2013
RESILIENT STITCH: Well-being and Connection in Textile Art by Claire Wellesey-Smith
This fascinating book is an exploration of resilience in textile art, both in the art itself and in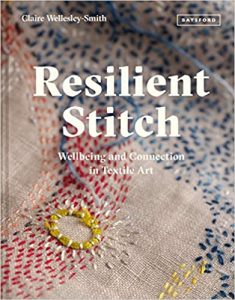 the people creating it. The author expands the themes discussed in her earlier best seller "Slow Stitch". She explores the historic legacy of the textile industry, particularly in her home area of West Yorkshire.
This is not a book with patterns or simple ideas for projects. Ideas develop from gardens and other natural areas. Claire spends time with community projects, assisting people who have recently arrived in the country. Numerous processes are included, mending and darning, piecing and patching and dying.
The final chapter outlines one stitch community's response to the recent pandemic, and the work produced during lockdown. The text is a thoughtful read, showing how resilience can be developed giving more meaning in everyone's life.
Batsford 2021 ISBN 978 1 94994 607 0
THE THREADS OF LIFE: a history of the world through the eye of a needle by Clare Hunter

The author has over 20 years of experience in producing items made from cloth and needles.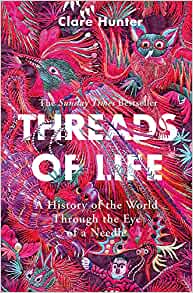 This book reflects her interest at home and abroad in using textiles in different spheres of life. She gives examples of how silent messages have been sent by Argentinian mothers who have lost loved ones, also prisoners of war in Singapore and how Mary Queen of Scots sent secret messages to her supporters.
The range of textiles and sewing is immense, as is Ms Hunter's knowledge. She groups the similar events under one word chapter titles, which range from "Protest" to "Value". The book is an eloquent blend of history and memoir, the author's need to tell her story with familiar and unusual making a satisfying read. There is an extensive bibliography to help if you wish to read more on a subject; I wish there had been illustrations of the more ephemeral items.
A good read combining sewing with history and feeling good in the world.
Sceptre ISBN 97814736887916
THE SLEEP QUILT by Tracy Chevalier & Fine Cell Work
This small book contains the work of many some who had never held a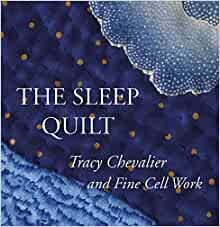 needle or attempted any type of embroidery before. The author admits she knew nothing about quilts but her life quickly changed; she joined a quilting group, curated an exhibition and was asked to talk with prisoners in Wandsworth prison by Fine Cell Works. This charity teaches and trains prisoners to do fine stitching. They do receive a small payment but all agree to the psychological and therapeutic benefits of needlework.
The subject for the Sleep quilt resonated with all the prisoners and their squares reflect their reactions to attempting sleep in their cells. Each individual square has been designed by the stitcher. They are shown in close up and in the completed item. The pictures are interspersed by comments from the prisoners, showing how an activity we take for granted can have a calming and positive effect. I found the book rather sad but also uplifting.
Pallas Athene
ISBN 978 84368 186 5
THE POCKET by B. Burman and A. Fennetaux : a hidden history of women's lives
This is a fascinating history of what at first glance seems to be a utilitarian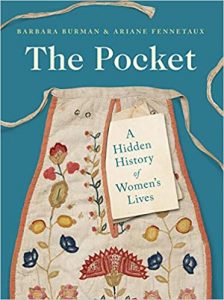 item, with a recorded use from the late 17th century to the late 19th century, examines the tie-on pocket which was used by all classes of women. The two authors have attempted to reconstruct the complex lives of women through "small things forgotten". Evidence has been drawn from needlework manuals, coroners' reports and many other sources. Lucy Locket was not the only person to lose her detachable pocket; these were tied round the waist and accessed by a slit in a skirt side seam. The ties were often cut by thieves or became loose. They were often worn in pairs.
Skill with a needle was important through this period and many girls decorated their pockets with wool or floss motifs. It is difficult to date a pocket as they were used for many years; what appears Victorian could have been worked in 18th century, such sturdy material was used. Almost every museum seems to have examples, either adult or doll sized or shown in paintings; Sudley House in Liverpool has an example by David Wilkie.
This book has numerous illustrations; one pocket made from a grenadier's cap, another by a prisoner using human hair for decoration. The text is concise and shows the depth to which the authors investigated their subject to bring out the minutiae of women's unrecorded live. This is a serious text, showing respect for overlooked, personal objects.
THE ACCOMPLISHED LADY: A HISTORY OF GENTEEL PURSUITS c 1660-1860 by Noel Riley
If you were a leisured lady in the period covered by this book, time often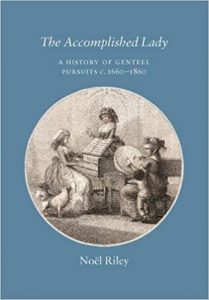 hung heavily on your hands; servants catered for all domestic and child rearing chores. Other than social duties, ladies found many pursuits to fill their lives and instruct their young. Until relatively recently a thorough knowledge of all branches of needlework was considered essential for every young lady. The wealthy did not need to sew in order to exist, so they turned to embroidery. It was referred to simply as "work". Purely decorative needlework implied a genteel, leisured lifestyle and became associated with a particular social sphere.
There are numerous illustrations of pieces of work included that have survived, from purely decorative Stumpwork to screens, chair seats, purses and patchwork. All pieces are of a high standard and have survived because their owners treasure them. During this period magazines carrying designs were published. There were also emporiums that carried all the necessary stock for ladies to purchase.
There are interesting chapters on Beadwork, Threads and Braids. Crochet, Knotting, Knitting and Ribbon embroidery are described; one we don't do now is Drizzling, the unravelling of gold and silver braids or lace. This was introduced form France. The metal could be melted down and recycled. The habit caused immense destruction to many historic textiles. It was known for ladies to cut off epaulettes from officers' uniforms when sitting behind them at concerts.
The front dust cover shows three young women in "Morning Employments"; one is holding a knotting shuttle, another is engaged in tambour embroidery.
2017 by Oblong ISBN 978 0 9575992 9 1
A SINGLE THREAD by Tracy Chevalier
This novel paints an interesting period in 1930s England, a time when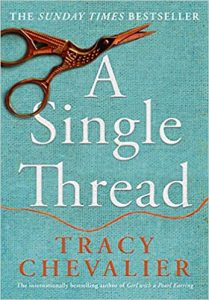 women who lost loved ones in World War 1 are still mourning their loss and learning to live alone. The main character, Violet Speedwell, lost her fiancé in the war. Single women were expected to live at home, caring for ageing parents. Violet moves to Winchester. She visits the Cathedral and stumbles into the world of embroidery. New kneelers were being produced, under the direction of Louisa Pesel. Violet discovers the calming effect of needle into material and her confidence grows with Louisa's encouragement.
There is quite an amount of description about wools and stitches without being tedious. The various characters involved in the mammoth task appear with gentle irony. The development of Violet's skill in embroidery is set against her interest in bell ringing and one particular ringer. The author blends the details into her story making an interesting tale. The restricted life of women and the few opportunities are described without pity, "surplus women" being considered a tragedy and a threat in a society set up for marriage.
This is an easy read set in an unusual period of our history; it doesn't preach but the author knew her stuff having learnt about Miss Pesel's designs. The weaving of various stories together imitates the coloured threads used in the kneelers, which are still in use in Winchester cathedral.
The Borough Press
2019 ISBN 978-0-00-815381-6
THE OTHER SIDE OF THE COIN: THE QUEEN, THE DRESSER AND THE WARDROBE by Angela Kelly
Are you looking for a relaxing read into the New Year? This book provides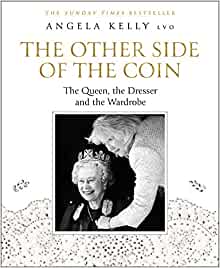 one with gentle descriptions of national and international events over the last 25 years as witnessed by an insider.
The author has gradually progressed up the professional ladder in the Royal palaces and developed a close relationship with the monarch. Various chapters describe how garments are designed, materials chosen and the finishing touches that make the Queen's wardrobe so memorable. The fun the author finds in many situations spills off the pages.
Angela Kelly is from our city and she admits she knew little about the royal family. Her no nonsense attitude and cleverness designing appear to have been a breath of fresh air in Buckingham Palaces' corridors. She has a clever colour sense and appreciation of what suits a major public figure.
This book has presented a pleasant read; I'm so glad my son listened when I replied to his question "What do you want for Christmas?"
Harper Collins Publishers
ISBN 978 0 00 836836 4
LIFE AND WORKS OF ANN McTAVISH by Gill Pawson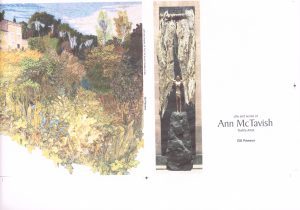 This book is tribute to an inspiring, talented lady still missed by all her pupils. There are many illustrations of Ann's works showing her development through styles, from large wall hangings to small "house ornaments", as she described pieces influenced by her Italian visits.
One chapter describes her co-operation with the sculptor Arthur Dooley producing a piece entitled "Redemption", which is on view in Liverpool Cathedral. Ann found a new way of working for this piece, using dissolvable materials to produce her own. Such techniques were new at the time. This work is very moving and well worth a visit.
There is a section of pictures Ann's own works, showing her skill in using different styles and materials. There is also a Gallery of pupils' pieces and some moving tributes.
The author was one of Ann's pupils and this book is moving tribute.
The book is printed privately by the author. If you would like to purchase a copy please contact the author, Gill Pawson, directly at gillandkenpawson@icloud.com
THE DRESSMAKER OF DRAPER'S LANE by Liz Trenow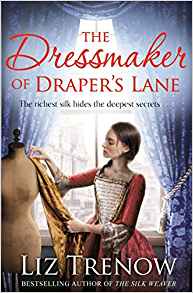 A purchase at an auction leads the heroine Charlotte into meeting famous late 18th century names and solving a personnel mystery. The author gives a convincing picture of living in Spitalfields, London and village life in Essex.
This story follows on from "The Silk Weaver"; there is less description of material production but details of fashion are included as Charlotte meets her customers; she is an unusual woman running her own business in the late 18th century. Each chapter is headed by a technical description of a material or accessory.
The author has researched her period, introducing the Hogarth sisters, David Garrick and the system of the Foundling Hospital, which plays an important part in the story, blending into the action and keeping the plot moving.
This is a relaxing read with a refreshing approach to the period. The characters read well and fit into the scenery and plot, from the over-bearing vicar to Mrs Taylor, the supervisor in the sewing room.
Pan Books 2019
THE GOLDEN THREAD: How fabric changed History by Kassia St Clair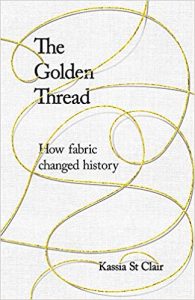 The cover of this book first attracted because of a wandering gold thread. Near the end is a chapter devoted to working with gold thread, so I read it first. Remember the Spider Cape in 1912 shown in V&A and national press? The penultimate chapter is devoted to the people who developed this material, which makes fascinating reading.
The author invited the reader to take a closer look at the fabrics in daily life. Each chapter contains very different stories that help illustrate the significance of very different threads. From unwrapping Egyptian mummies to developing space suits, the information is eclectic and fascinating. Whether natural or man-made the human race has always lived surrounded by cloth; speech contains many words and phrases in which the production of thread and cloth have insinuated themselves, eg "line", "lining", "lingerie" are also rooted in the word "linen".
The author proves by her scholarship and research that the study of fabric is not a Cinderella subject. The production and history of fabrics is for the curious and informed. Take a chapter a day.
John Murray 2018
Embroidered Treasures FLOWERS Exquisite Needlework of the Embroiderers' Guild Collection by Dr Annette Collinge
This large format book contains beautiful illustrations of many pieces held in the Guild's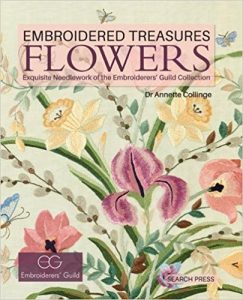 collection, pieces date from Tudor times through to 20th century. All show different blooms worked in a myriad of methods and stitches.
The author has separated the examples into various categories; monochrome, using evenweave material, applied materials, symmetry or irregular designs. Although no actual patterns or instructions are included the pictures show how each is worked.
Names of donors and date of inclusion in the collection are given; the fact that some were saved from destruction or being sold at jumble sales is also mentioned. Catalogue numbers are included so favourite ones can be checked and requested when readers visit Aylesbury.
Search Press 2018 ISBN; 978-1-78221-131-0
THREADS: The delicate life of John Craske by Julia Blackburn
The title of this fascinating story is very apt, as there are so many threads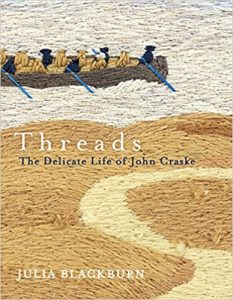 linking famous people of 1930s with others of 1970s.
The hero is a sick ex fisherman who spends his good days painting or embroidering. Much of his output has disappeared but according to exhibition reviews and eyewitness accounts was produced by a man who knew the sea in all its moods. Medical science of the day could do little to help his condition, described as "a stuporous state". Continually tended by his devoted wife John lived a quiet, almost death-like life. Various notorious people visited, purchased his paintings and encouraged his talents.
This story links the lives of many people, including the author and her husband. Some are unexpected, like Peter Pears and Albert Einstein. The best chapter, from an embroiderers' view, is about Craske's embroidery of the Evacuation of Dunkirk and includes photos of the work; this should be seen by more people, especially those who understand the skill in producing it from his sick bed. It is like a detective story, with the author chasing clues in unexpected places while the atmosphere of Suffolk and the east coast permeates the book.
HIDDEN IN PLAIN VIEW:
the secret story of Quilts and the Underground Railway by J L Tobin & R G Dobard.
This book describes the many patterns used in 19th century quilts in southern USA and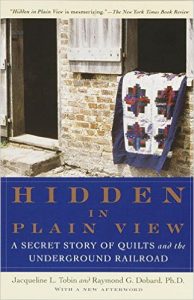 the discovery of the significance of the patterns. Until comparatively recently the coded messages in such quilts have been unknown due to the oral tradition of the makers. Even family members were unaware that heirloom items had such importance to escaping Negroes before emancipation. Ms Tobin is an historian who was given the information by one of the last quilt makers in Charleston, Louisiana. The strong connections with West Africa, from where the natives were forcibly moved, influenced their designs. Professor Dobard was an experienced African American quilter who helped to unravel the story of the importance symbols giving directions to the fugitives.
There is an extensive bibliography and helpful glossary and diagrams of designs.
"This book unfolds like a scholarly detective story and offers convincing evidence that quilts were used to conceal and yet reveal a means of escape on the Underground Railway"
Anchor Books 2000
THE BUTTON BOX: Lifting the lid on women's lives by Lynn Knight
Ms Knight takes her readers through the treasures she finds in the family button box, an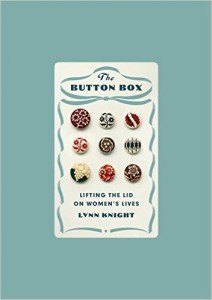 item most readers can empathise with. Each treasure brings forth her family, memories and events connected with the button. Sometimes she elaborates into social memories, how her aunts impressed her with their needle skills and escapades. There is much about the make do and mend of the war years. Her grandmother was a strong influence as was gran and mother where sewing was concerned. Gran's silver thimble was included and the memories handed down through the female line.
Throughout the book the gradual freeing of women from domesticity into the wider world, either social or necessity, is discussed and expounded. A small ladybird button reminds the author of her childhood, the gap between those who had and the children who were made to feel the stigma of not having, through no reason of their own; the numerous layers of underclothing worn by all who could afford; the delights of reading various comics that even now causes some to become misty eyed.
This book certainly presents a new view on the history of women's intimate lives with domestic duties, families work and fashion. Some of the chapters may make the reader laugh or nod in agreement .Lynn Knight's book gives a new meaning to micro history.
Chatto & Windus 2016
TAKE SILK by Judith Pinnell- a guide to silk paper for the creative fibre artist
This book will take the reader into a world of colour, creativity and an exciting new dimension in textile art.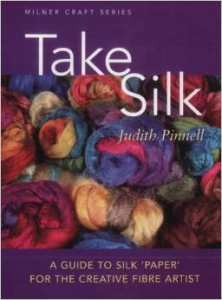 Thus the blurb begins on this lovely paperback. The illustrations in the project section are magical; the photographer deserves much praise.
The author delights in making silk paper then transforming it into many desirable objects, bowls, masks etc. Follow the clear instructions to make your own lovely items. Machine embroidery dominates but the hand stitcher is also catered for. The instructions appear clear and various materials can be used to enhance the designs.
Have a go!!
2002 Search Press £10 99
SCHOOL OF SEWING by Shea Henderson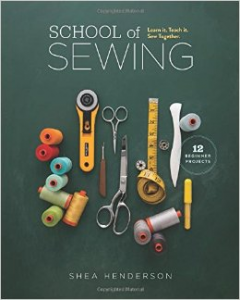 This book contains 12 months of sewing lessons, following a group of beginners learning to use their sewing machines. Each detailed lesson plan includes easy-to-follow instructions, advice on buying fabric and other necessities.
The first third of the book has interesting chapters on the sewing machine, which should be of great help to people who are complete beginners. Choosing materials is discussed before the projects start. Each one may appear simple but they contain different skills that help the sewer progress with confidence. Being an American publication there are quotes from pupils alongside the progress; perhaps schools over there do even less stitching than UK ones have taught over the last few years.
This was an enjoyable read for beginner and more experienced stitchers; all can gain some ideas to impress family and friends,
IS978-1-940655-02-4
Lucky Spool Media 2014
Search Press £16 99
MEND AND MAKE FABULOUS by Denise Wild
Subtitled "stylish solutions to give your clothes a new lease of life".
The author starts by saying "A true fashion devotee strives to keep all her clothes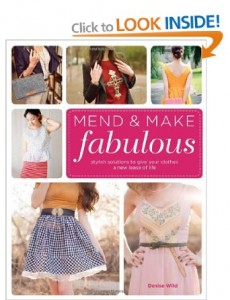 looking as good as new. The ability to repair, revive and even revamp a garment is priceless". The first part of this book explains how to make basic repairs in all types of materials and garments. From repairing denim to lace and all weights in between are discussed.
The "Make it fabulous" sections should produce many ideas for those with a need to increase their wardrobe without too much diminution of their purse. The final sections are full of tips on laundering, fabric care and a glossary on the tools used by the author. This book will inspire the modern "make and mend" woman!
Search Press 2014 ISBN 0781782210290
THE LAST RUNAWAY by Tracey Chevalier
This historical novel is set in mid Victorian Ohio, in a Quaker settlement. The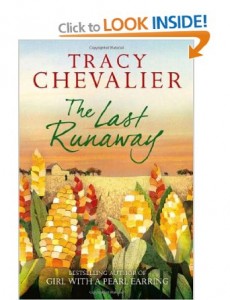 story is mainly gentle but includes a considerable amount of detail regarding Quilt making. It appears to be the main recreational activity of the female characters when they are not growing food or hiding runaway slaves. Scraps of cloth are gleaned from many sources and contain precious memories.
The period atmosphere permeates the story, and the letters from the emigrant reflect her loneliness as she makes a new life. The author shows her research in the stitching, diet and domestic conditions faced by early settlers. I enjoyed this story much more than her earlier one. It makes a good go-to-bed book and one to borrow from the library.
HarperCollins Pub 2013
THE DESIGN LIBRARY MAORI DESIGNS, by Penny Brown
This is a fascinating design source book with a wonderful selection of 100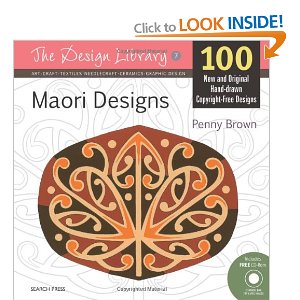 specially commissioned, original images inspired by the traditional art of the Maori people. The patterns and motifs in this book are based on their stunning tattoo designs and woven work, their pottery and jewellery, and their beautiful and impressive stone, wood and bone carvings.
Illustrations can be combined with other images, or enlarged and used as the main theme for special projects, whether they are stitched designs, cards, journals, collages, mixed media or ceramic pieces, pictures, panels or paintings. This wonderful source book, which is accompanied by a CD, will fire your imagination and give you all the help you need to create stunning, original works of art. (I'm sorry you cannot click to look inside this book)
SEARCH PRESS Paperback £12.95 ISBN 9781844488421
HOW TO DECORATE AND EMBELLISH YOUR FABRICS, by Laurie Wisbrun
The ultimate guide for all crafters seeking to achieve the perfect finish for their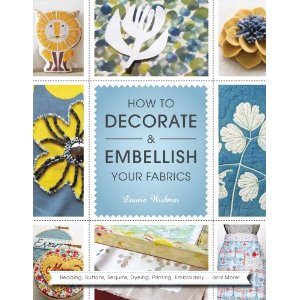 fabric-based projects. Comprehensive step-by-step instructions are accompanied by detailed illustrations that introduce readers to an extensive range of fabric alteration and embellishment techniques, such as tie-dying, block printing, and beading. Galleries throughout the book feature examples of these techniques, demonstrating how they have been applied to fabric and providing readers with a wealth of inspiration.
SEARCH PRESS Paperback ISBN 0781844488339 £14.99
DRESSMAKING 200 QUESTIONS ANSWERED By Mary McCarthy
An ideal book for both the proficient and the less experienced dressmaker. The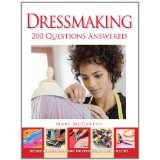 book is divided into questions with clear photographs and diagrams of the problems. These range from 'How do I use Tailors chalk?' to more challenging items such as 'How do I match the right fabric to my pattern?' and 'How do I cut out stretchy fabrics?' Answers to your dressmaking problems can be solved with this very useful book. Chapters cover sewing equipment, measuring and fitting, preparing and cutting out fabric, machine stitching and lots more helpful advice for anyone who is interested in sewing. A good all round advice book.
ISBN 978-1-84448-839-1 Published by SEARCH PRESS £9.99
STITCHING FOR VICTORY by Suzanne Griffith
This is not a book to give pattern or inspiration but one that lets us be thankful for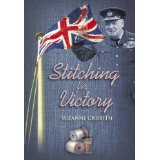 all the materials available to us. As a War baby I have only dim memories of Shortages or Mum making much out of little. There has been much talk about make and mend recently. This book explains how society did have to stretch existing materials and how the needle was so important.
Personal accounts of youngsters stitching items makes me want to weep for the present generation that has scant knowledge of sewing or handicrafts. The few that do learn the skills, like our Young Embroiderers, will bless their instructors.
All aspects of life between 1939-1950 are viewed from the vantage of sewing, from Blimps to ladies' underwear. The Government appears to be strict but benign is sharing materials; I can remember Mum grumbling but everyone apparently did!
There are many pictures, showing a collection of prized mementos, wedding dresses, toys and W.I. tapestries. A clear simple style makes the book easy to read. One to borrow from a library if you're not a social history fan.
The History Press 2009 £16 99