BLACKWORK- Techniques and Projects by Jen Goodwin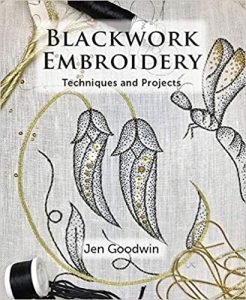 This must be the most comprehensive book about Blackwork Embroidery – a heavy weight both in content and size, covering all aspects of the skill from start to finishing techniques. Most of us consider that Blackwork dates back to Tudor times but in the history chapter, Jen discovers that it dates back to 1387 with a reference in The Canterbury Tales. Fascinating stuff.
In each chapter Jen is meticulous in her descriptions. There are no less than 198 filler patterns offered and a further 42 designs in the darning section. A further chapter takes the reader through the stitches, including Goldwork, which can be introduced to enhance the finished design. There are several suggested projects to encourage the reader to have a go.
A thoroughly comprehensive book for beginners or experts alike. I particularly enjoyed the two pages devoted to explaining how to remove the inevitable blood spot after pricking your finger with the needle. I never knew that!!! You will have to read the book to find out!!
Published by The Crowood Press Ltd 256 pages
ISBN 978 1 78500 775 0
GOLDWORK EMBROIDERY: techniques and projects by Lizzy Pye
This book is a delight to the senses, with clever illustrations of the stages of work and projects.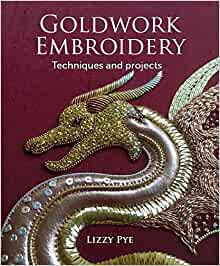 The first section is very detailed, giving clear warnings of the errors that can occur with careless handling of the different threads. The author shows how to repair mistakes, mount finished work and enhance designs at various stages.
The author acknowledges her gratitude to the Royal School of Needlework, for inspiration and friendship. There are some fun projects, especially the "Death by Chocolate" skull, a really fine mixture of stitches. The butterfly design uses stranded cottons in the wings, so the gold threads outline the colours. All Goldwork books need a dragon; this one is a legless Wyvern, which requires real skill in handling the various threads and frame.
This book makes me want to start stitching; careful preparation is required to do justice to the lovely materials used. The author does not miss stages. The projects would be easier to follow if the pages lay flat in this large paperback volume.
Crowood Press Ltd. 2020 ISBN 978 1 78500 647 0
A FINE TRADITION: the embroidery of Margaret Light
This book demonstrates the many aspects of crewel embroidery in great detail, offering a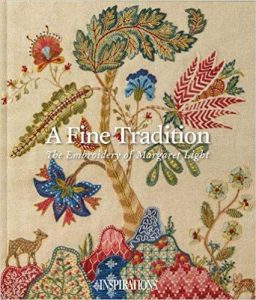 mixture of projects and designs. It is published by Inspirations Studio with detailed instructions, clear stitch diagrams and lift-out patterns. The various projects include a number of Needle-folds and Books, three Tile designs and a Redwork Pincushion and Chatelaine. The author admits the many influences on her designs and colour schemes. She was inspired by items in the Embroidery Guild collection in UK. She admires various historical pieces including the Deerfield Society of Blue and White Needlework in USA.
The first half of the book shows her projects in generous details, with materials listed and many clear photographs of different stages of the work. The second half consists of general instructions on materials, equipment and stitches. The latter has many photographs of the different stages to build the stitches. There is even a kit for each project! But I could not see a price list; they will be in Australian dollars so comparisons are difficult. One design caught my eye, for a cushion with a pair of small dogs chasing insects. This may be the project to get one reluctant embroiderer back into stitching, to produce a friend's special birthday gift.
This lovely book is a pleasure to read and I hope inspirational in content; photography is of a high standard and the text clear.
Inspirations 2021 ISBN 978 0 6487670 0 8
BARGELLO STITCH: a pattern directory for dramatic needlepoint by L. Angell & L. Angell
As a discipline Bargello work is known to have great mental health benefits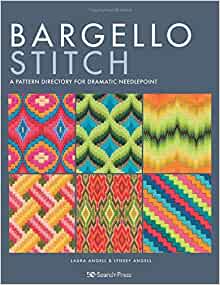 due to the rhythmic counting quality and joyful use of colour. Few materials are required although once you have acquired the wool "bug" it is hard to resist new colours and textures. The authors use all thicknesses of threads including metallic, cotton and machine besides the traditional wools. The importance of counting the canvas threads is stressed and the different sizes make impressive shapes to the same design.
The easy stitches have as many illustrations as the more advanced. Once the reader's eye understands the pattern it is easy to follow and appreciate how the use of colour alters the design. What appears complicated and impossible at the start grow like Topsy into pleasing patterns. Both authors encourage a choice of colours to blend or contrast. Once a stitcher can cope with colour blends the authors' suggest that the rules are abandoned and personnel choice uses colours that look great together.
The stitch combinations are shown in close up and also in completed projects. There are cushions, shopping bags and wall panels in vibrant colour schemes. Once the basics are mastered it appears the sky is the limit!
Search Press £12 99 ISBN 978 1 78221 867 8
MODERN BARGELLO by Tina Francis

Tina Francis is very enthusiastic regarding colour, encouraging the reader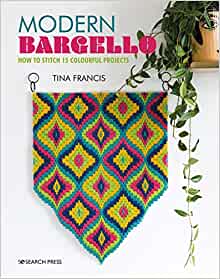 to experiment with primary and complimentary shades, explaining how a change of palette alters the design. For a complete beginner she explains canvases and how to follow a chart. Her projects vary from a brooch to lines of bunting to wall panels that can double as cushions.
The use of colour is vibrant and cheering. Bargello is a style of stitching for those who love order as well as those who prefer to take an idea and run with it; one slight change of colour can take a design in a whole new direction. There are directions for a lumbar cushion worked in more sombre colours. Natural canvas is used for most for the projects but plastic canvas is used for a small box.
The author's enthusiasm for her craft shines through the text and her stitching skills show in the clear, numerous illustrations.
Search Press £9 95 ISBN 978 1 78221 825 8
CREWEL BIRDS by Hazel Blomkamp
This is the fourth book in Hazel's series of Crewel embroidery; each design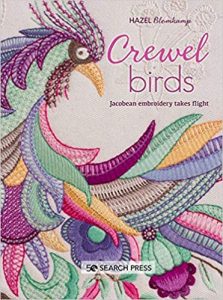 shows her creativity with colours, shapes and threads. Close up photography of the shapes give clear ideas of where to place the stitches with each section highlighted.
The first 70 pages give details of how to work the stitches, which include many brand new one, and instructions for incorporating needle-lace techniques used as embroidery stitches and loom-weaving. Beads and crystals add dazzle to the intricate design.
The 6 templates are clear and easily reproduced. The individual projects each have clear, step-by-step instructions and clear photographs. The author gathers her pages in to a rag book—she maintains she has no wall space! This is a situation many can sympathise with.
The complete book is very bright with helpful diagrams and photographs. The featured birds are a phoenix, a rooster, a common peasant, a mallard duck, a flamingo and a Chinese pheasant; a male because they have the brightest feathers!
Search Press 2020 ISBN 978-1-78221-834-0
JANE AUSTEN EMBROIDERY: authentic embroidery projects for modern stitchers by Jennie Batchelor & Alison Larkin
This beautiful book combines embroidery and detailed literature analysis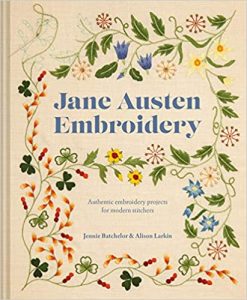 of 18th century polite behaviour, sewing patterns used at that time and delightful sewing. All women of that period were expected to sew, either to pass the time or make necessary garments. The designs are from "The Lady's magazine," one of the first publications aimed at the literate woman who had free time to indulge in decorating garments. In the days before sewing machines, sewing was a sociable activity. There are many references to "work" being displayed in Jane Austen's novels.
The book is divided into three sections, with a discussion of contemporary events in each, before giving many pretty designs for napkins, mobile phone pouch, tablet sleeve etc. The section on Trimmings begins with the story of Jane's aunt who was tried at Taunton assizes in 1800, accused of stealing a card of lace. There are interesting discussions about shawls, caps and muffs with original illustrations.
Working the patterns appears straight forward with careful instructions and detailed lists of requirements and threads. The author recommends using Silk Mill threads but there is a good conversion chart if you prefer DMC or Anchor. The hard cover is decorated with a winding, natural design worked by the author, who shows the style and delicacy of the period.
Very enjoyable read! Pavilion 2020 £16 99
MINI HOOP EMBROIDERIES by Sonia Lyne creator of "Dandelyne"
There are over 60 designs in this colourful book. The small frames were the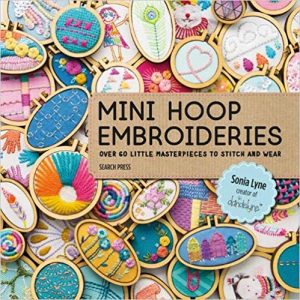 brain child of the author, who wished to show off her handiwork. She wishes everyone to show their talent!
Search Press 2019
ISBN 978-1-78221-665-0
---
GLORIOUS GOLDWORK by Sarah Rakestraw & Susan Hinde
Over 12 years have passed since Golden Hinde began to talk of a book on Goldwork. It has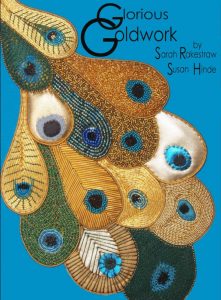 been a long gestation but worth the wait. Here it is!! There are many attractive coloured illustrations, with clear text on white paper and interesting, helpful hints throughout. Text size is easy on the eyes. Whether you are skilled or a novice this book will aid and inspire your work.
The first sections on equipment and threads which demystify the various textures achieved by the metals and give useful tips on how and where to use. Each page has stunning photographs showing their use and effects. The close-ups really encourage mixing colours and materials.
Starting with framing up the book takes you through the stages, from simple brick stitch to complicated Or Nué in circles. Every stage is clearly illustrated. Projects are shown, from small brooches, the application of leather and needle lace stitches to a red squirrel, owls and peacocks.
The project section explains clearly for a new comer, but allows the more experienced to adapt colours to a personal choice. The final Gallery section shows how different students have interpreted designs using the multitude of gold work materials.
Published by S Rakestraw 2018
ISBN: 978-1-5272-2774-3
BOOK OF EMBROIDERY by The Royal School of Needlework: A guide to essential stitches techniques and projects.
This lovely volume is one to browse through before attempting one of the 8 specialities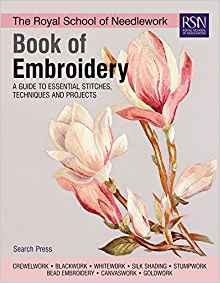 explained in much detail. There is an introduction to Hampton Court and a brief section on basic equipment. Preparing a slate frame is shown in clear photographs. Also other frames are described and how to position a design on material. Mounting a finished piece is also explained.
Crewel work, Black work, Silk Shading, Goldwork, Whitework, Canvas Work, Stumpwork and Bead Embroidery are the key subjects; each chapter follows a similar pattern with a brief history of the stitch, tools and materials, stitches used and contemporary and historical examples shown. All are clearly illustrated and would enable a beginner to enjoy the styles. Each chapter is produced by a qualified RSN Graduate Apprentice or tutor so the work maintains an exceptional standard.
This is a reference book for the new stitcher and the experienced, well deserving a place on every embroiderers book shelf.
Search Press 2018 £25
LAYERED & STITCHED PICTURES by Katie Essam
This large soft covered book is in The Textile artist series. The author has a very positive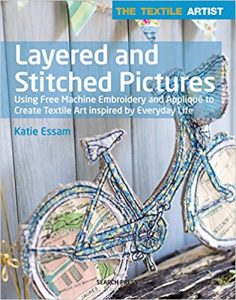 approach to design and construction. She sees beauty in everyday items, from wellingtons to family pets. The various stages are clearly explained, helping the beginner to improve using the different projects.
The chapter on the sewing machine shows different tools and how they produce different effects. The exercises in using the machine help to disperse any fears the stitcher may have of embroidering with a machine and not just a needle. Hand sewing is not ruled out, either as an alternative or to add texture.
Each project builds on previous pieces, with building up to more complicated applique works, using the given shapes or from an individual's own photographs. The author comes across as a gently leading hand; in the hints she often encourages stitchers to "have fun". That is what this enjoyable book demonstrates admirably
Search Press 2018
ISBN 978-1-78221-531-4
CREWEL CREATURES Fresh Ideas for Jacobean Embroidery by Hazel Blomkamp

This beautiful book is really 3 in 1; there are excellent sections on stitches and techniques,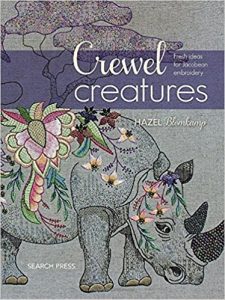 tools and materials. There is a very instructive section on bead embroidery techniques. The author is very generous with her detailed diagrams which are supported by good photographs for the beginner using this method.
The six designs show the author's complete mastery of Crewel stitches, using thread and bead in a modern manner without losing the fun of the technique. The designs are original and amusing plus stretching the stitcher with the imaginative use of colour and texture. Each creature has its own personality expressed in stitch.
This is the third book in the author's series of Crewel stitching, with step-by-step instructions with a template for each included. The influence of her South African homeland can be seen in the palette chosen for each design.
Search Press 2018 ISBN 978 178221 5257
MANDALAS TO EMBROIDER : Kaleidoscope Stitching in a Hoop by Carina Envoldsen-Harris
The Danish author of this attractive book has been designing embroidery patterns since
2009. Carina states that Mandala is Sanskrit for "circle". The repetitive design and use of stitches in a mandala are aids to concentration and introversive meditation which helps with greater awareness of the world.
There is a clearly illustrated section on materials and equipment, nothing elaborate or expensive. Four pages of diagrams of the stitches used follow, with the suggestion that new ones should be practised on a separate piece of material. Clear photographs show how to prepare a hoop; Dandelyne hoops are mini ones suitable for display only.
These are pure embroidery panels, each design set out with colour chart, list of stitches involved and working order. Although detail is given the author suggests the reader/stitcher experiments with their own choice of colours and changing the threads ie using crewel wools, perle cotton or crochet yarns.
All 12 large and small designs are included on iron-on sheets in the book. There is a handy pocket in the back cover in which to store after use. The designs vary from fairly simple to complex patterns; all can be extended by use of extra threads, change of colour scheme but only 10 stitches are used in all. The mind is soothed as you follow the delicate repeating patterns and tranquillity experienced for a short time.
Search Press ISBN 978-1-78221-544-8
2018
TEXTILE NATURE by Ann Kelly

Textile techniques and inspiration from the natural world
This beautiful book is quite inspirational, whether you enjoy plants or birds. The author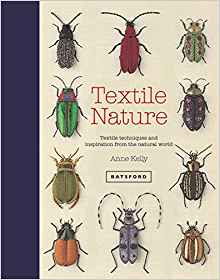 incorporates many other artists' work, giving examples that extend an international flavour to the book. She trained in Canada and has exhibited in numerous places.
She begins with emphasis on looking and recording from Nature. There are no actual projects in detail but much inspiration. Chapter 3 is on Flight, birds and insects using three dimensional design technique. Other artists' work here include Anna Dickerson, who has been artist in residence at London Zoo; Jane Nicholson, Nicola Jarvis, Suzette Smart and Karen Suzuki. All have different approaches but all inspire.
Other sections include "Planting in cloth" and "Working with green spaces". Each section has examples from other artists. The illustrations are very clear on clean white paper. For people who enjoy working in mixed media there is much to stimulate. The book is great for a gentle read or something to set you working on your own natural wonder. The featured artists are included in a good list, as is a further reading list and suppliers.
Anne Kelly Batsford 2016
WHITE WORK WITH COLOUR by Trish Burr
Although the title appears a contradiction the work within is beautiful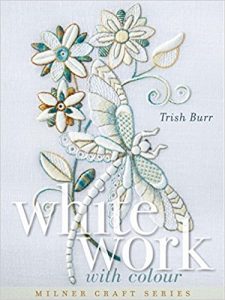 and enticing. The first 4 chapters gently prepare the sewer with the necessary knowledge to graduate onto the differing projects. Clear diagrams show how the stitches are formed; even the dreaded Eyelets look simple here. How to polish your satin stitch is included, using a wooden aficot. The different threads used are described clearly with alternatives suggested; there is a useful chart too.
Projects gradually become more complex; the 2 Owl designs clearly show how including colour can change the emphasis and character. A second pair of scenes is worked in different colours demonstrating how features can alter using a different palette. A dramatic head in silhouette features the elaborate headdress of the Xhosa tribe, which signify the important stages of a woman's life.
This beautiful hardback book is a pleasure to read, extra information is included in boxes on many pages, with a colour band along the top and a quick reference guide on the middle right of all project pages,
2016 Milner Craft Series
ISBN 9781863514965
RAISED EMBROIDERY: Techniques, Projects & Pure Inspiration by Kelley Aldridge
New and experienced stitchers will find information and inspiration in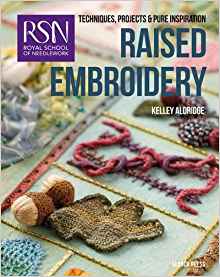 this book……….. so read the introduction, which is no exaggeration due to the wide range of projects worked by many artists. A book cover featuring Edward Lear's characters going to sea in their "pea green boat", a lovely cottage etui box, variations of Biscornu and a dress decorated with sweets are illustrated with fine clear photographs.
As with a three dimensional embroidery the order of work is important and here there are clear step-by-step instructions and photographs. 14 pages are devoted to the green brooch, helping the most ham fisted to produce a beautiful object.
The book starts with a short history of this type of embroidery, followed by a section on materials and design. The section on techniques and stitches is very comprehensive with helpful hints scattered around. Half a page is given to advice concerning how a piece will be use and suitable materials to help the embroidery survive. Even cleaning is included.
To a newcomer this book gives so much help; the more experienced will enjoy the guidance and designs. The photography is inspirational!
Royal School of Needlework
Search Press 2017 £17 99
THE ART OF BEAD EMBROIDERY: JAPANESE STYLE by Margaret Lee
This book comes from the publishers of "Inspirations" magazine, which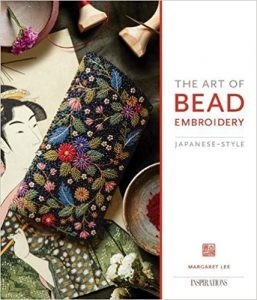 guarantees beautiful photography married with clear text and diagrams. The introductory pages make fascinating reading, with much information about equipment tools and materials. Seed beads are used throughout with the occasional high light using, for example, crystals. This medium is closely allied to Japanese embroidery; the practice hinges on the understanding of the techniques used and the visual movement and perspectives created when applied individually or in combination. An understanding of the use of colour, creation of different textures and a meticulous attention to detail and application in different designs makes this style unique within the genre.
Detailed instructions of setting up Japanese and slate frame follow and also ideas on which threads to use. Emphasis of decent needles is explained. Some specialist equipment is used to aid the tension of thread and beads when laying the beads. There is a comprehensive section on the fundamentals of bead embroidery which if worked through systematically will lead to perfect projects. Trace off patterns are included in a pull out section.
Most of the book consists of tempting projects! Hand bags, box lids, cosmetic and spectacle cases, a ring cushion and embellishing a printed material all show the wide variety that this delightful technique produces.
Inspirations Studios Corporation Pty Ltd 2017
ISBN 978-0-9923144-7-7
THE ART OF EMBROIDERED FLOWERS by Gilda Baron
This book is like a workshop, taking you through the stages, equipment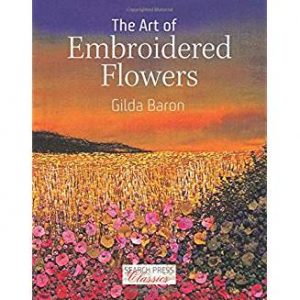 and techniques to produce a complete picture. There is much encouragement in the notes, the main one being each of us has more artistic ability than we realise.
Each project give a list of materials required then moves on explaining how and why to use them. Nothing is extreme but the results (in the book) seem fine. The author states that she had to learn how to use the paints etc. and the results were often surprising.
A sewing machine is used for some of the work and this use is explained carefully, but hand work can be used if a machine is not available or disliked.
Various resists are used, the waste from a sheet of postage stamps, masking tape and ring reinforcements help to add interest to the painted colours. Flowers are cut from various materials including old laces before sewn into place using hand or machine stitches, nothing complicated.
This book would enable a finished piece to be achieved in the time it takes dyes etc to dry. Suggestions are also included on different framing effects. . Success comes with practise, seems the main theme of the text. The author was no doubt an inspirational teacher
ISBN 978-1-78221-522-6
Search Press
MINIATURE NEEDLE PAINTING EMBROIDERY Vintage Portraits, Florals & Birds by Trish Burr
This large soft book contains 18 miniature embroidery projects and is a sequel to her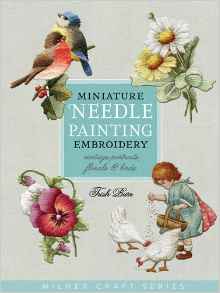 Colour Confidence in Embroidery. The author is a master of long and short stitch; each project contains comprehensive instructions of which threads are suitable, step-by-step photographs and row-by-row stitching.
Trish Burr has had many years of needle painting embroidery and she is very generous in sharing her knowledge and how to adapt stitches to fit different designs. These are taken from an online collection of antique postcards, which adds to the charm of the finished pieces. Don't be daunted by the number of colours required to complete a design; the basket of Anemones asks for 33 DMC shades and 5 of Anchor, Birds on Holly requires 35 DMC and 5 Gutermann shades, so the end result is more like a watercolour than sewing.
The first section explains the importance of fabric, hoops, needles and thread, especially using 1 strand of Gutermann, which is half the thickness of DMC or Anchor and on occasion it can be divided when sewing very delicate details. There is a useful comparison chart of these threads so it should be possible to follow exactly the author's palette.
This is a delightful book to peruse and people who enjoy fine stitching should have hours of enjoyment from it.
Milner Craft Series
A-Z of SILK RIBBON FLOWERS by Ann Cox
The author of this large paperback book knows her plants, being a keen gardener she has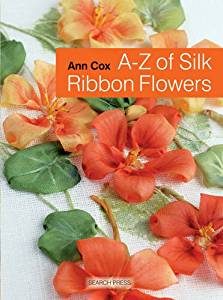 grown and studies the form of all the 32 designs she includes here. The step-by-step photography certainly helps the novice produce good imitations of Nature. There are clear lists and templates for all.
The first 40 pages explain the equipment, handling ribbons, transferring designs and painting the finished article. The Introduction is encouraging and positive. Great care has been taken with photography and the text seems to spring from the bright white pages. The use of paint on stitch may be new to many but here even the shade is explained and where to apply.
A little practise with the ribbon should soon have an embroiderer producing bouquets aplenty; just missing s the perfume.

Ann Cox 2013
Search Press £15 99
ISBN 978-84448-997-8
THE EMBROIDERERS' LITTLE BOOK OF HINTS AND TIPS by Alison Cole
The author has over 30 years of experience teaching embroidery, especially Goldwork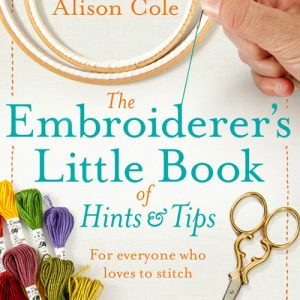 and Stumpwork, but her hints do not refer only to these methods. The first part of the book is called "Going Shopping" and there is a useful section on all materials used in all types of decorative sewing. The book closes with a detailed review of needles with life size illustrations, so we should all be using the correct tool!
Alison specialises in Goldwork and the chapter on hints is very detailed, as is the Stumpwork one. The pages are on wires so lay flat which makes following the information easier. Reading the "Getting Started" section helps with all sewing, as methods for all types of embroidery benefit from the ideas, from which end of the thread is put through the needle to the type of frame to use. Each section concludes with a few empty pages for the reader's own notes.
The author encourages reading the book as a novel, i.e. from start to end, or as a "fix it" volume we use when in trouble. The chapter on "Going on a Course" is extremely useful, from having the right equipment to making sure the date is correct.
Well worth the money.
Published by the author 2016 £24 00
ENGLISH EMBROIDERY by Barbara Snook
This is the perfect text book for people studying from an historical perspective. The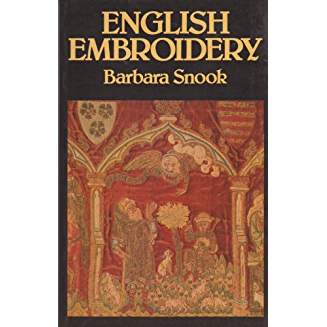 author separates the periods, from Mediaeval, Tudor, 18th, 19th and 20th centuries. Within each group there are sub sections on clothing, accessories and domestic pieces. She includes how Continental and Eastern influences and fashions were reflected in English work. There are clear black-and –white line drawings and detailed lists of stitches used, an old stitch dictionary would be good here.
Included are Black, White work, Broderie Anglaise, Berlin work, Stump Work, and Samplers. All are shown clearly, not how to work the stitches but what the finished design should be. The author visited many collections and museums to examine existing pieces and much social history emerges along her route.
This is an ideal reference book for all stitchers.
Mills & Boon 1974
SAMPLERS AND STITCHES by Mrs Archibald Christie
This book is a paperback reprint from 1920. It contains numerous clear diagrams of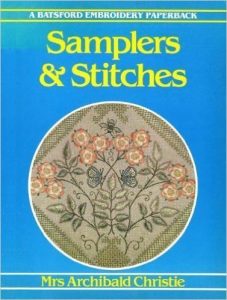 stitches. Mrs Christie's systematic grouping and the thoroughness and completeness in which the possibility of each stitch is worked out should be of much use to the beginner and advanced worker.
Much stress is laid on design with the author guiding the beginner along the right path without destroying experiment. Chapter 1 offers much encouraging advice. The stitches are arranged in groups with clear diagrams on the white pages; this makes the work easier to follow. There are full page illustrations of samplers using the stitches in the adjacent text.
The author was aware of derivation and historic stitches, her style may seem a little restrictive but she knew her stitches and enjoyed combining many. Chapters include Flat stitches, Loops, Chain and Knots. There are chapters on Drawn and Cut Fabric stitches, Black Work and Laid work. It's easy to follow instructions. The lack of coloured illustrations may dismay some readers but this I found a help in choosing my own colour scheme.
Batsford Ltd London.
ENGLISH MEDIEVAL EMBROIDERY: OPUS ANGLICANUM by Ed C Browne, G Davies & M A Michael
The excitement of seeing the recent exhibition at the V&A Museum on Medieval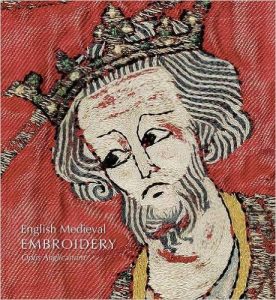 embroideries was extended by this book. Although I carried a magnifier into the display, most pieces were too far back from the glass to use it to advantage. A couple were suitably placed to allow visitors to count the stitches! This volume show the work in their glory with beautiful colour pictures and excellent close ups, which make the reader wonder how it was done! The skill and precision of the stitchers from 13th century to the Reformation is amazing. They used a limited number of stitches but worked them very carefully. All appear to be heavily worked with silver gilt; there must have been a great business in supplying such items. Material and colours still appear to glow after so many years.
There are learned essays on different aspects of this work, from details on techniques, textiles in the church, embroiderers and their trade which at this time was centred in London. Medieval patrons show how the Papal Court was especially important. The artistic style of these embroideries clearly links them to London and broadens the understanding of English art more generally of this period.
The second half of the book is a catalogue of the exhibition with detailed descriptions of each piece. There is a list of threads and stitches used in each piece. Close up photography shows details not seen, as on the Fishmongers' Pall; a mermaid holds a mirror on which is sewn a reflection of her face and long rippling tresses.
The title Opus Anglicanum fell into disuse for this style as competition came from the Continent, due perhaps to social changes after the Black Death. Lay people had begun to purchase embroidered garments which were often made from fabric with embroidered motifs separately purchased in London. One chapter demonstrates the lively and creative character of English embroidery during this period.
The final chapter explores the rediscovery of these embroideries since 18th century and traces the recognition of the crowning glory of English medieval art. There is an extensive Glossary, Bibliography, list of picture credits including one from the Walker Art Gallery and an extensive Index. This volume is one to dip into at leisure. It really is a coffee table book.
V&A Museum 2016
SHAKESPEARE'S FLOWERS IN STUMPWORK by Jane Nicholas

The author has worked closely with the designer and illustrator to produce a volume that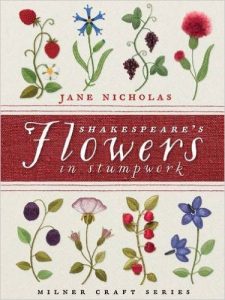 combines literary/artistic/botanical information and beautiful embroidery of a magnificent standard. Close attention to the text will give much help in understanding the construction of each plant. Clear instructions follow for each project, from preparation to individual flowers, requiring close study to emulate the delicate drawings.
The detailed order of work for a panel incorporates a scrolling stem and insects, similar to early 17th century samples. Instructions make the items seem easy to achieve, as following the author's meticulous method should. The final project is a Garland of Spring Flowers; this is based on Ophelia's flowers in "Hamlet". Clear order of preparation and a list of requirements for all flowers and insects aid confidence. This section also contains notes on techniques, equipment and a useful stitch glossary. Here the diagrams are very clear on the glossy white pages. Unusually for an embroidery book there is a comprehensive bibliographic section to lead readers into further exploration of this fascinating period and skill.
2015 Milner Craft Series ISBN 9781863514811
RIBBONWORK GARDENS: The Ultimate Visual Guide to 122 Flowers, Leaves and Embellishment Extras by Christen Brown
This large paperback book is a delightful collection of projects worked in 3 dimensions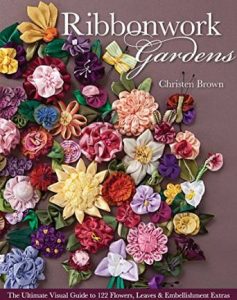 and a wide array of ribbons. The author shows her wide teaching experience in the manner the pages are set out and her clear definition of the work. "Ribbonwork is often confused with ribbon embroidery: ribbonwork is stitching a length of ribbon with needle and thread to form a flower, leaf or other design as a separate unit, ribbon embroidery is threading the needle with ribbon and stitching through material to form a flower etc".
This book was written as a reference guide for people who wish to expand their artistic horizons. There is a clear well illustrated section on the multitude of available ribbons and for what they are best suited. The flower section resembles a flower catalogue. Construction techniques are clearly explained by word and picture. A chapter headed Basic Elements explains the language and basic equipment. Then Christen lets you loose, to design your own blooms. There are encouraging pages on many flowers, how to add details for realistic touches, to make leaves and extras ie butterflies and snails. One useful item is Thread Heaven which minimises tangling, similar to beeswax.
This is a lovely book to read and should encourage people who wish to work a new method of making beautiful pictures.
C&T Publishing 2012
CREWEL & SURFACE EMBROIDERY: INSPIRATIONAL FLORAL DESIGNS by Trish Burr
This Australian book was published a few years ago but the designs remain stylish and inspirational. The author is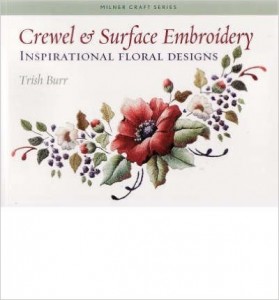 very talented with a unique sense of colour and shading. Her designs are inspired by art work in US and Australia plus Russian folk art. These are arranged at various levels of expertise. Her teaching experience helped her gather projects that could be completed fairly quickly; pupils confessed to having begun but not finished many pieces—the cry of embroiderers everywhere!
Chapter 1 gives clear direction for materials and threads. The suppliers list includes web sites which are always useful to get started. A close reading of the Technique and Tips section is worthwhile. There are clear diagrams showing how to achieve neat Long and Short stitch; other stitch diagrams are included. 4 practice motifs precede the flower spray designs. There are also hints on finishing work. All the printing is of high resolution.
Traceable outlines of each spray are included, very detailed lists of threads and equally stitch instructions appear at the start of each project. The author skilfully mixes wool, silk and stranded cotton in each project with the occasional inclusion of ribbon and metallic threads. Step-by-step photographs, clear illustrations and very detailed instructions make stitching these projects a joy. Embroiderers of all ability will find a project that extends their talent and give a satisfying result.
ISBN 9781863513777
THE HAND-STITCHED FLOWER GARDEN by Yuki Sugashima
This book has a selection of embroidery designs from each season, showing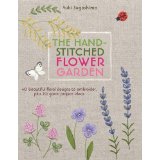 how o achieve a high standard with basic stitches. Each season follows with imaginative projects incorporating the 12 designs. Spring has a scissor case decorated with snowdrops. Each season has 12 motifs, used on a different project. Ribbon and beads are incorporated plus 3dimensional flowers.
There are sections on Tools and Materials, Getting started with useful hints on adapting any design to suit your size and choice; a Stitch Directory that extends the usual number used in projects and a brief section on Techniques. There is also a section of Templates.
This is a book to appeal to new sewers looking for ideas on how to use their growing confidence with needle and machine. Experienced embroiderers will also be inspired.
Search Press £12 99 2015
BLACKWORK MADE EASY Techniques, Patterns & Samplers by Lesley Wilkins
This slim book is a treasure trove of patterns, so every stitcher should be able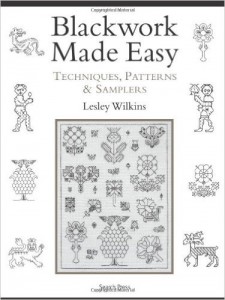 to find a design to suit all tastes and abilities. Lesley Wilkins shows how to create traditional embroideries using simple stitches on evenweave fabrics. Blackwork is a very creative and flexible form of embroidery, using straight or diagonal stitches arranged in a huge variety of patterns.
After a brief historical introduction, there is an interesting section on equipment including threads; this gives clear information on which are best for different materials. Lesley has studied historical samples of this embroidery and realised that before pattern books were printed that worked samples carried geometric design from Arab countries, reflecting motifs found on tiles or architecture. Hints for recording your own ideas are also included.
This book includes all information required to produce beautiful embroideries inspired by history and a special teacher.
2012 Search Press ISBN 978-1-84448-753-0 £9 99
THREE-DIMENSIONAL EMBROIDERY STITCHES by Pat Trott
This book is a pleasure to find and read. Each page shows via clear photographs how to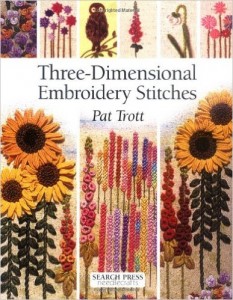 achieve original embroideries in what appears such a complicated style. A short introduction encourages us to put aside time to enjoy this art. There is a section on materials followed by a large Stitch Library; here the pictures are very easy to follow, with simple instructions. Other ideas such as rock construction and painted background fabrics, can be used in various projects. The section on projects is sure to fire the imagination. The combination of scenes can be adapted to personal choice or the interpretation of holiday views etc. The author makes everything seem within the reach of even the ham-fisted! Pat Trott is a member of the Embroiderers' Guild and has many years' experience teaching in various educational establishments. Her writing and work is often published in needlework magazines. Do study this style of embroidery under the hand of an inspiring teacher and surprise yourself!
Search Press ISBN 978 1 84448 003=6 2015 £8 95
THE NEW ANCHOR BOOK OF CREWELWORK
This is a large soft cover book with clear diagrams of projects alongside various stitch instructions. A brief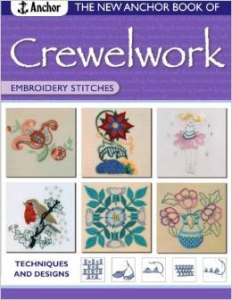 historical overview informs us that true Crewel work should be worked in wool but embroidery moves with the time and a more relaxed attitude is evolving towards projects. The use of lines thread protects work against insects also. Designs too are updated using modern ideas and materials.
There is a good section on threads, needles, transferring a design and use of a hoop. 49 stitches are shown clearly and by stages so a complete beginner can master the direction and flow. 16 designs vary in complexity and style, offering something for all. Phillipa Turnbull is responsible for the designs.
David & Charles/Coats 2005
EASY TO LEARN HAND EMBROIDERY by Chris Malone
The American author is obviously very experienced in teaching absolute beginners to embroidery as her designs are simple but fun, she includes detailed lists of materials and instructions and she doesn't talk down to the learner. Her prose is clear, as are her diagrams.
The list of materials is very good, with modern equipment included i.e. different pens for transcribing patterns. Ironing the completed work is also covered. There is an interesting selection of projects that will intrigue a wide range of ages. Although some projects appear to have numerous requirements if worked through in the order given the result will resemble the illustrations. I particularly liked the upcycling of a denim skirt; this project will intrigue a teenager.
This large paperback will make an ideal gift for a granddaughter/niece or help an older person to regain/revise lost skills, and is a worthy present.
ISBN 978 1 59635 970 3
STITCHED TEXTILES: FLOWERS by Bobby Britnell
There is an uplifting introduction to this book;" There is no one way of doing anything, we can all make our own mark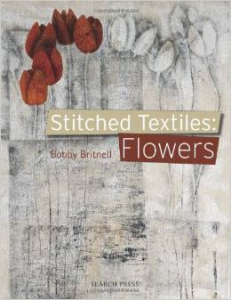 on the paper or material; what is required is regular practice". This volume provides methods of working that help to express ourselves creatively.
A comprehensive chapter on materials is followed be a section on design and drawing using familiar flowers in many ways. The stitching chapter includes hand and machine, the author enjoys both. There are a number of projects included that incorporate ideas from earlier chapters. If you are new to design or need a refresher course this book provides the inspiration. Fresh and innovative in its approach, it covers the design process itself, from inspiration to final design, and provides information on the materials used and step-by-step demonstrations of a whole range of techniques including dyeing, monoprinting, block printing, applique, foiling, photo-transfer printing, piecing and stitching. Five step-by-step projects build on the skills learnt in the preceding sections and include wall hangings, a pretty needlecase, a pincushion and a cushion cover. Very much aimed at the contemporary textile artist, this beautiful book is designed to inspire and encourage new ideas and experimentation.
Search Press 2013 £15 99
BEGINNER'S GUIDE TO CREWEL EMBROIDERY by Jane Rainbow
Although not a new publication this book is a pleasant gateway to crewel embroidery. After a cheerful introduction,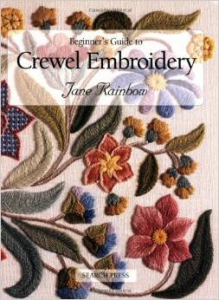 which even makes unpicking sound jolly, there are sections on design, materials, threading your needle, beginning and finishing off; if some of these sound too basic just remember it's never too late to learn the experts way! The part on blocking your piece is interesting if you've never achieved a square final result.
The section of stitches is accompanied by clear photos; there are traditional designs grouped in appealing ways for the modern stitcher. I'm itching to work the Owl motif on a suitable material for a friend. Large and small designs can be photocopied and clear step by step instructions are provided.
This book is worth its price if only for the photos.
Search Press £8 95
HIDDEN LIVES: LEEKS EXTRAORDINARY EMBROIDERERS by Cathryn Walton
Message from the author Cathryn Walton – "Since the very successful Leek Embroidery exhibition held in 2013 I have finally completed my research into the women from all walks of life who stitched the exquisite embroideries. This is the first time that the women who stitched for the Leek Embroidery Society have been researched. Many books and articles have been written about the embroideries themselves but nothing at all about the women who stitched them. HIDDEN LIVES: LEEKS EXTRAORDINARY EMBROIDERERS has 249 pages with hundreds of photographs in colour and black and white. It features local and family history, women's history and of course embroidery history."
Self published
Retail price £19.95
Cathryn Walton is offering this book at £15.00 plus £2 post & Packing to Merseyside Embroiderers Guild members. Please send cheque value £17.00 to Cathryn Walton, 10 Queen Street, Leek ST13 6LS. She may also be contacted on Tel. 01538 388429 or email wcathryn@hotmail.com
Review by Vicky Williams of Hidden Lives : Leeks Extraordinary Embroiderers
Two years ago I visited Leek to view some of the Victorian church embroiderers produced by the Leek Embroidery Society. The pieces are exceptional and show the high level of skill achieved by this varied group. Individual stitchers were unknown; now the author of this fascinating social history has sourced most, found photos of them, houses and families. This story dispenses many of the myths of Victorian women; these ladies sewed, worked in the local industries or were of independent means.
The stimulus for much of the sewing came from Elizabeth Wardle, who had connections with J D Sedding through her husband's dye works and later with the Morris family. She, and a group of ladies, embroidered a beautiful altar frontal in 1872, which can still be seen in St Luke's church, Leek; it is known as the Pelican frontal. The fact that these women had the knowledge and skill to produce such a beautiful piece is not explained but skill they obviously had.
In 1885 Sir P Cunliffe-Owen showed Elizabeth Wardle a set of cartoons of the Bayeux Tapestry. These interested her so much that she decided England should have a facsimile; she and her husband visited the original, he produced natural dyed wools in his Churnet factory and tracings were made by L Allen. Local ladies set to again.
Classes in various arts were held in Leek Nicholson Institute. Leek also had a school of music and an Amateur Musical Society. The ladies would spend much time together and the sewing groups developed quite naturally. Orders came from local churches and afar; in 1905 a frontal was stitched for the English Church in Khartoum. Elizabeth Wardle had died in 1902 and her daughter Lydia took over running the Leek Embroidery Society.
Many of the women were related and the author has produced an interesting social history of a small town that became famous through the endeavours of many women. Not all sewed, Lizzie Allen traced original and designed frontals. There was much talent and industry among these women, they were not the stereotype Victorian matrons. We can enjoy their talents still.
MODERN SASHIKO by Silke Bosbach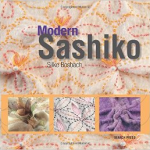 This slim volume combines the simple elegance of traditional Japanese sashiko with modern surface designs and materials. The easy to follow techniques are perfect for the absolute beginner plus providing plenty of inspiration for more advanced stitchers.
The designs are made from single stitch sashiko worked on a linear grid either with single or multiple strands. In patterns the stitches do not cross. The designs are created from straight or curved lines of running stitch. There is now a sewing machine that can imitate hand stitching.
This is a charming book with high quality pictures and many designs to get anyone started.
ISBN 978-1-78221-041-0
Search Press 2015 £8 99
LEARN SWEDISH WEAVING AND HUCK EMBROIDERY by Katherine Kennedy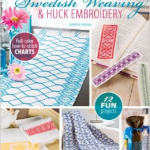 No, I'd never heard of this method of embroidery before. The information on the back states it is quite easy to work; it is a simple and straightforward form of needlework that can be mastered and enjoyed by all ages. This almost lost form of decoration became popular in 1930s and 1940s in USA, as a method of decorating towels, table runners, bed linen and more.
The stitching is done by picking up the vertical threads, called floats, on the right side of the fabric, so the threads do not show on the reverse. The designs can be worked on many fabrics, without adjusting the patterns. The book has the usual General Instructions section, which clearly shows the material used and stitches. The paragraph on fabric is very clear. The succeeding patterns have a material list, with suggested amount and type, needles, threads. The projects begin small and simple; there are pattern charts for more complex pieces. Photographs clearly show the completed items, with suggestions for all ages to work gifts or pieces for your home. This wonderful, almost lost, needlework form is experiencing a resurgence in popularity and is being used to make not only towels, but also, table runners, afghans, pillows, place mats, curtains and more. Swedish weave is quite easy to do. It is a simple and straightforward form of needlework and can be mastered and enjoyed by all ages.
ISBN 978-1-59635-906-2
£8 99 from Search Press
Printed in USA by AnniesCatalog.com
SIMPLY SAMPLERS:EASY TECHNIQUES FOR HAND EMBROIDERY by Cheryl Fall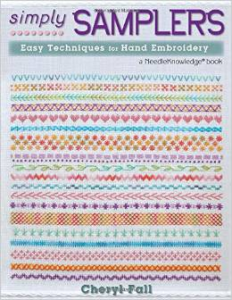 After a short introductory section this large soft backed book has a variety of samplers using traditional to fun designs. Photographs are enticing, diagrams clear and large. Some can be used as templates. I particularly liked the Shamrock Sampler, a delicate design worked in one colour of variegated floss with added beads for sparkle. The final section shows how to work all the stitches in large clear drawings.
This would be invaluable for a beginner with little stitch knowledge but it contains interesting projects to stimulate the more experienced stitcher. The American author has much teaching and writing experience using materials from Coats/Anchor and DMC threads.
Stackpole Books 2014
CREWEL INTENTIONS by Hazel Blomkamp
Using only cotton, rayon and metallic threads, along with beads and crystals, the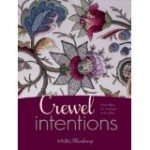 designs in this book are embroidered onto cotton, linen, taffeta and silk. The techniques, while making full use of crewel embroidery stitches, borrow extensively from other styles and other needlecrafts. Needle lace, Brazilian and Bead embroidery, Stumpwork and Loom Weaving methods have been incorporated into the embroidery that fills th Jacobean shapes in all of the designs.
Every project is clearly explained with step-by-step instructions and lots of photographs, and the completed embroideries are displayed in ways that are both decorative and functional in the home. Templates of the original designs complete this magnificent resource for creative hand embroidery, which shows you how to take Jacobean or Crewel embroidery into the 21st century.
SEARCH PRESS 2014
ISBN 9781782211068
THE EMBROIDERED VILLAGE BAG by Caroline Pearce
Indulge all of your embroidery passions while stitching this fabulous, versatile bag.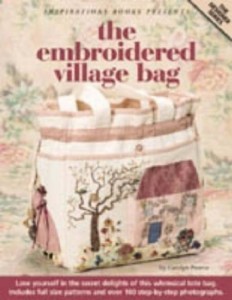 Complete with wisteria and rose covered cottages, the Village Bag utilises a myriad of stitch techniques, fabrics, threads and buttons to create a handy tote, large enough to carry embroidery projects or for a day of shopping. Start searching now for those special buttons, ribbons and charms that will find a wonderful new home in your own unique village. The book includes a full sized pattern and over 100 step-by-step photographs, and the project is created using many varied embroidery techniques, which are all fully explained.
INSPIRATION BOOKS 2011
ISBN 0-9757094-0-2
STITCH, FIBRE, METAL AND MIXED MEDIA by Alysn Migelow-Marsden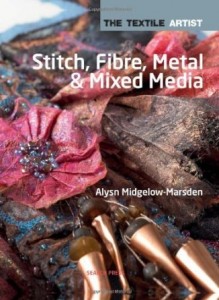 This book is worth the price for the beautiful colour photography alone! The author obviously loves metallic surfaces and produces some incredible pieces, using a wide variety of materials. The chapter on materials is very detailed and extensive; such can be new or re-cycled items ie sweet wrappers, coverings from champagne bottles ( of course, why did I throw away the last batch), drink cans and take-away food containers. Some metals are also woven which are very useful in designs.
The "Key Points" section is a lesson in itself, with the warning of having a practise before starting a project. Once familiar with materials you just need to be inspired and sew!
The first project is based on pomanders. There is a comprehensive equipment list then clear, step by step instructions with enhancing pictures. The original design is extended, showing how one basic idea can grow. The author finds inspiration from nature and historical embroideries held by our Guild.
To all those who wish to extend their range and let loose their creative side this book is a must.
Search Press 2014 £17 99 ISBN 9781844487622
NEEDLE LACE FLOWERS by Figen Cakir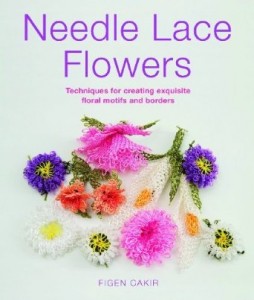 The British born author moved to Turkey where the local craft of Oya work inspired her to help the Turkish women to develop their age-old craft skills. This book helps to introduce the craft to a wider audience. After a brief history each project has clear instructions and beautiful photographs, showing the flowers. The stitches are clearly explained also. An interesting technique for any one capable with a needle.
Search Press 2013 £12 99
ISBN 9781782210054
LONG AND SHORT STITCH EMBROIDERY: A COLLECTION OF FLOWERS by Trish Burr
This book is a delight; the embroideries look real and are an inspiration. The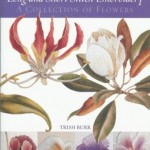 flower projects have careful drawings showing how to produce such lifelike pieces. The text is clear and progression easy to follow. The silk shading is carefully explained.
After the introduction there are chapters on materials and techniques and 2 pages of tips; the one to step back from the work and study it is very good, we all need to rest our eyes and think about the work in hand. The stitch glossary leads naturally into the tips on improving silk shading and needlepainting.
The first 4 projects are simple flower designs where all you've absorbed can be used. Progressively more complex designs test the stitchers ability to put onto operation all the author has explained. Years of teaching are obvious in the progression of projects and gentle text. The colour printing and profusion of flowers is also inspiring.
Milner Craft Series 2011 ISBN -13 0781863513524
CREWEL EMBROIDERY: A PRACTICAL GUIDE by Shelagh Amor
This large paperback will help anyone new to this style of embroidery to get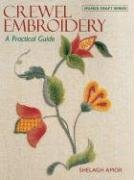 started and develop the correct method of approach. There are sections on equipment, transferring designs, use of frames and colour. Many beginners find the latter difficult; this author is very supportive.
There is a gradual progression in the designs, with clear instructions on where to begin and which stitch to use. A fool-proof method for using a scroll pattern is explained in simple steps and with clear diagrams. Pages of patterns for creating your own design are included. A hand drawn stitch glossary is near the back. An explanation of how to block completed pieces means they will not languish at the back of your cupboards. The author has an understanding of nervous stitchers by gently taking them through the stages to produce pleasing finished results.
All embroiders can benefit from this book; although it was published a few years ago it is worth including in your personal collection.
Milner Publishing 2008 ISBN 978-1-86351-389-0
EMBROIDERY BASICS: a Needlework Knowledge Book by Cheryl Fall
This large paperback is divided into simple sections to help the real newcomer to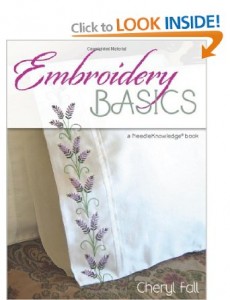 this absorbing hobby; the first describes and explains the tools used, threads, canvas etc. This is followed by techniques, especially the important one—How to Start! 30 pages showing very clear diagrams of how to make a wide variety of stitches, in large colour print. This section should encourage any reluctant stitcher to achieve success.
The remaining half of the book is devoted to projects using the stitches with gentle encouraging text. Although the author is American I had no difficulty with her English except "hip" cocktail mats! The Owl pincushion seemed charming and quick to make. There are cross stitch designs, a useful alphabet, book covers, Assisi design and drawn thread work The latter seems almost a lost skill these days. Also included is a section on finishing, a comparison colour chart of the various threads on the market, a simple glossary and internet addresses.
This book makes a pleasant read and is very encouraging to the new stitchers. The author shows her years of teaching in her methods and approach. My only quibble is that I feel the spine will not take repeated pressings back in order to follow instructions.
STACKPOLE BOOKS £13 99 ISBN 978-0-8117-1093-0(PBK)
RSN ESSENTIAL STITCH GUIDE : Bead Embroidery by Shelley Cox
Shelley Cox presents an expert guide to all aspects of bead embroidery,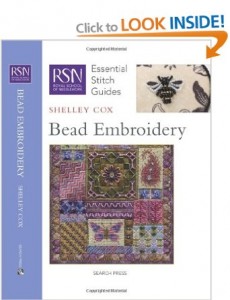 including information on counted thread beadwork, bead embroidery, beaded surface embroidery, and fringing. Here you will find stitches and techniques for every type of needlework that involves beads. Decorative effects are explored too, making this a fantastic source book and an invaluable reference for beadwork.
SEARCH PRESS £10.99
ISBN 9781844489237
STUMPWORK FLOWERS by Sachiko Morimoto
This book offers a modern perspective on the floral motifs that have been a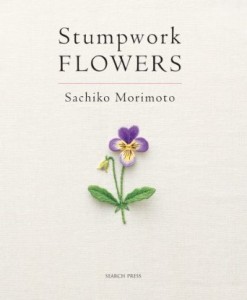 stumpwork mainstay for centuries. It features 19 floral motifs and 8 projects, the simplistic design of which showcase the artistry involved in the craft.
The well-developed introductory section provides readers with step-by-step photos and illustrations of all the techniques used in the book, making the book suitable for embroiderers of all abilities. This book will encourage readers to take up stumpwork and the fresh, contempory designs will draw readers in, while the easy-to-follow instructions and small projects will show readers just how accessible this craft really is.
SEARCH PRESS £12.99 ISBN 9781844489459
EMBROIDERED ART by Lindsay Taylor
Inspired by her love of nature, Lindsay Taylor moulds, sculpts, weaves and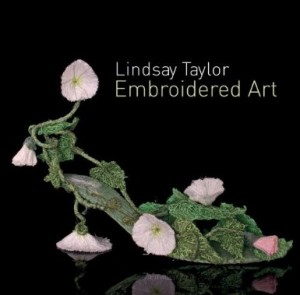 entwines hand-dyed natural fabrics into three-dimensional works of art. Employing a variety of techniques, she recreates items such as bags, shoes, gowns, hats, even cups and lampshades in organic form, reflecting the intricacy and exquisite beauty of the natural world and instilling them with a dreamlike quality evocative of fairyland.
With the emphasis placed firmly on showcasing Lindsay's unique style of embroidered art, this book also provides an insight into her life journey. The evolution of her unique style of work, her inspiration, and the methods and materials she uses.
SEARCH PRESS £25.00 ISBN 978 – 1 – 84448 – 778 – 3
ELIZABETHAN STITCHES: A GUIDE TO HISTORIC ENGLISH NEEDLEWORK by Jacqui Carey
The author presented the main talk at the 2013 NW Regional Day meeting and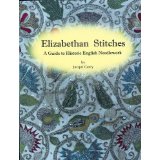 had plenty copies of this book to hand. She has spent many hours dissecting existing pieces of historic textiles in order to discover how the work was achieved. Although stitches share similar names with modern versions she demonstrates the subtle differences. The reverse often shows how the period stitch differs from the modern. Her diagrams make all clear and reward careful study.
The examples used to illustrate her diagnostic method are historical pieces. She admits they would belong to the upper layer of society, one reason they have survived. Many are in museums, 2 in Platt Hall collection so hopefully on view during our September visit. Not all are shown complete but others are in close-up, especially the backs. The photography clearly shows method and construction. The preservation of colour and materials is very good. The various materials are discussed, patterns and the early influences on design ie. garden flowers, imports eg. tulips.
As a metal embroiderer, re-enactor and social historian I found the book fascinating. It is not necessary to share such esoteric hobbies to appreciate Ms Carey's scholarship, detective work or patience. If you are familiar with her book "Sweet Bags: an investigation into 16th and 17th century needlework" you would expect little else. She excels at bringing the past alive and making me wish her work had been available when I was making period costumes.
Published by Carey Co. Devon 2012 £24 95
SILK SHADING by Sarah Homfray
Another title in the Royal School of Needlework series that gives detailed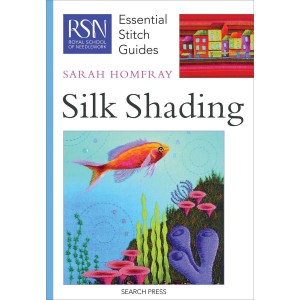 instructions on how to achieve beautiful stitching! After a brief history of this style there is a section on materials before moving onto design and using colour. Inspiration is next then composition, planning and transferring the design. Experienced sewers may find the section on stitches unnecessary.
The second half of the book gives instruction on beginning simple projects, from fruit, marbles and autumn leaves. More advanced pieces incorporate different threads, materials and painted backgrounds. Following more ideas there is a final section on mounting a piece. All pages lie flat due to the ring binding and most pages have a tip or note to extend the reader's knowledge.
This is a really useful addition to any sewer's bookcase; there are 7 titles in the series, all written by experienced students of the Royal School and well worth close study.
RSN Essential Stitch Guide 2011 Search Press £10 99
STITCHED TEXTILES: LANDSCAPES, by Kathleen Matthews
In this book Kathleen Matthews creates beautiful landscapes by dyeing fabrics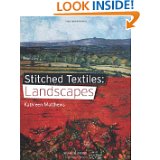 and threads, layering sheer fabrics and cutting out and applying fabric pieces, and then using free machine embroidery to create light, shade, texture and colour; finally embellishing with hand embroidery. She takes us through the design process, simple dyeing, all the techniques, portraying elements of the landscape and the seasons: then there are the five stunning step-by-step demonstrations to inspire textile artists everywhere. (I'm sorry you cannot click to look inside this book)
SEARCH PRESS £15.99 ISBN 978-1-84448-720-2
STITCHED TEXTILES: FLOWERS, by Bobby Britnell
In Stitched Textiles: Flowers, Bobby Britnell takes flowers as her theme and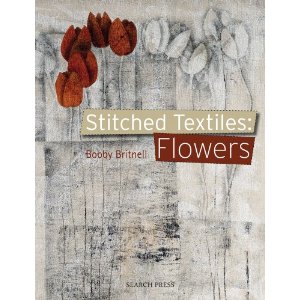 shows us how to embellish and enhance fabric surfaces through a range of techniques that include dying, printing, applique, foiling, photo transfer printing, piecing and machine and hand stitching. Five step-by-step projects build on the skills learned in the preceding sections. Filled with expert advice and numerous examples of the author's work, theis beautiful book will not fail to inspire, excite, and encourage new ideas and experimentation.
SEARCH PRESS ISBN 978 – 1 – 84448 – 731 – 8 Paperback £12.99
RSN ESSENTIAL STITCH GUIDE – GOLDWORK, by Helen McCook
Carefully worked examples are shown from design to completion in this new book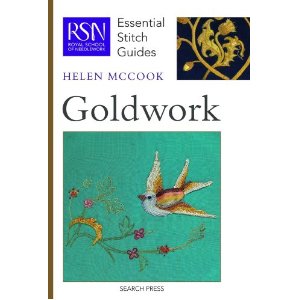 on an old style of embroidery. The young author has studied at the Royal School of Needlework and spent some years working to gain experience with different firms. The clear sections on equipment, materials and the order of work make this a joy and inspiration. The stitches are divided into two sections – couching and cutwork – with a series of clear photographs explaining each stage. There are also helpful hints on handling and positioning threads. Familiar stitches are included in the section on combining techniques. The book has a spiral binding, which makes it lie completely flat for easy reference. Do shop around for this very useful volume, as prices vary greatly.
SEARCH PRESS 2012
THE ART OF EMBROIDERED BUTTERFLIES by Jane E Hall
Jane Hall's studies of butterflies have led to an inspirational book detailing these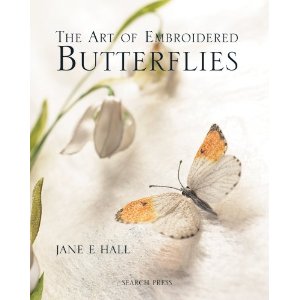 exquisite creatures. She creates her varied types of insects set in their own environment with flowers and leaves, displaying them in all their natural glory. The stitching she uses is hand embroidery giving her a creative and flexible medium to exploit their beauty. She explains the best materials to use and also the artistic techniques which she obviously enjoys using. An inspiring book for any lover of these beautiful creatures.
Published by SEARCH PRESS ISBN 978-1-84448-530-7 hardback £19.99
RSN Essential Stitch Guides WHITEWORK by LIZZIE LANSBURY
This book shows excellent examples of the use of a traditional stitch and then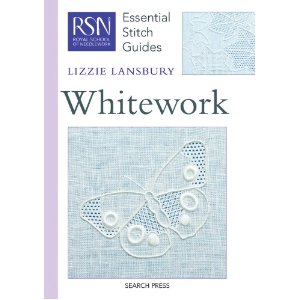 how to develop it into contemporary stitching. The author uses the very traditional and delicate stitching of traditional whitework to explain methods such as darning, long and short stitch and cut work to great effect to create beautiful lacy fabrics. The examples are inspiring and look both beautiful and fragile. There are very comprehensive diagrams and photographs illustrating the actual methods so that an aspiring stitcher could follow the stitching techniques of their choice. She includes a section on the history of whitework, materials and equipment and design. After sections on stitches, she concludes with a chapter on reworking a traditional design and further techniques. A very useful handbook.
ISBN978-1-84448-700-4 Published by SEARCH PRESS £10.99
DISSOLVABLE DELIGHTS, by Maggie Grey
d4daisy books ltd 2012
This is a small book, only 3 sections, but full of delicious ideas. The author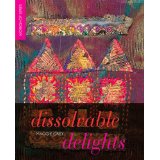 explains how to make encrusted surfaces, with many handy hints, and how to build up the surfaces. She also describes the properties of each dissolvable material which certainly helps a novice. She is enthusiastic over her media, showing results that should get any novice started. The fact that there is much hand sewing besides machine work certainly helps. All through she stresses there is no need to buy special materials, just experiment with what is in one's collection/bit bag.
I much admired the author's generosity towards other artists at a recent talk and this generosity comes through in her writing. The book is a very enjoyable read with many bright inspiring pictures. The book is one of a series in which the author explains in simple terms how to produce exciting items to wear or for decoration. There is a good source list at the back.
EMBROIDERED PORTRAITS, by Jan Messent Ideas, Inspiration and Techniques.
Jan Messent takes a traditional art form and puts a new slant on it by producing
fascinating portraits in stitch. She explains the best materials and methods for stitching both clothing and faces to create real characters. She has been inspired by a host of historical characters, such as Bess of Hardwick and also dips into fantasy with a 'book box' which opens to show Cinderella and Prince Charming.
The faces appear in relief and Jan Messent shows how to develop the 3D qualities transforming flat drawings into realistic modelled forms. She demonstrates her methods of raising and padding features to suit different angled faces and in doing so, gives them a lot of character.
There are instructions for making curls and ringlets, clothing such as Stuart ruffs, Gentleman's wigs and Edwardian bonnets.
This is another fascinating book by Jan Messent who clearly loves her embroidery and is only too happy to share her expertise with her readers.
Published by Search press £19.99, ISBN 978-1- 84448 – 741-7
CREWEL TWISTS
Fresh Ideas for Jacobean Embroidery by Hazel Blomkamp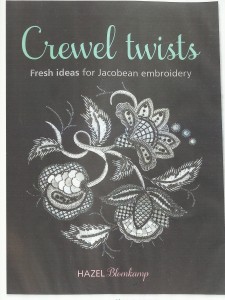 If you are a fan of Jacobean stitching, or Crewel work as it is also known, you will love this book which presents a new slant on this traditional method. The author draws on the variety of stitches and surfaces available in Crewel work and updates the technique by using creative approaches to this traditional technique. Her use of metallic threads, beads and needle-made lace techniques bring new creative methods of stitching to an old technique.
There is information on stitches which are beautifully illustrated, suggestions for threads and suitable beads, plus rich decorative illustrations of projects. She borrows techniques from other forms of needlework and integrates them beautifully into the traditional designs. Satin stitch, shading and variations on trellis couching are all well known methods and the author also uses these to create textured surfaces to enhance her projects.
This book would appeal to the traditional stitchers who wish to develop their techniques to create sumptuous surfaces without loosing the richness of the Jacobean tradition.
Published by SEARCH PRESS ISBN 978-1-84448-848-3 £14.99
MACHINE EMBROIDERED SEASCAPES by Alison Holt
The author has produced an inspiring book using the patterns and textures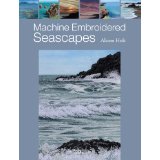 observed in the sea and sky to make machine embroidered Artworks. This book will be of great value to stitchers who wish to develop their machine embroidery techniques.
The contents cover materials and equipment, inspiration and how to plan work. She utilises threads in the same way that artists use paint and explains how she uses free motion embroidery to create the rich surfaces and textures of the seaside using her sewing machine.
There are clear and informative illustrations and explanations of her working methods, which have developed recently into incorporating paper into her work to create even more interesting surfaces. She includes five projects which help the reader to develop their own ideas and create stunning landscapes of their own. Chapters on painting a background, elements of seascapes and skies would also be invaluable to anyone interested in developing machine embroidery techniques. This inspirational book is full of creative ideas.
Published by SEARCH PRESS ISBN 978-1-84448-684-7 £15.99
GOLDWORK by Hazel Everett
This satisfying book gives details of designing a motif, a clear order to approach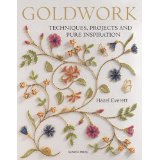 any project and techniques to use. There are also good sections on Or Nué and using kid. The second section offers a good selection of projects, especially clear diagrams on insects. The close-up photography shows the detail of each piece. Text and pictures are well matched and make any embroiderer want to start a project, especially the two in the final chapter, of a Dragon and Seahorse. A complete beginner to Goldwork would gain confidence using new materials and the experienced worker would be stretched by the author's enthusiasm and skill. A lovely soft covered volume that would enhance any sewer's shelf.
ISBN 978-1-84448-626-7 Published 2011
STITCH, CLOTH, SHIMMER & SHINE by Sarah Lawrence
This is an exciting book for the stitcher who wants to develop skills using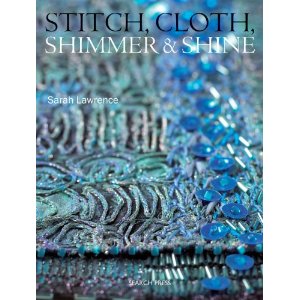 experimental media. The author shows a wide range of stunning techniques including Gilding, Mica and Metal manipulation. Excellent illustrations show how she develops surface textures and works them into rich surfaces using both hand and machine embroidery. The emphasis is on shine and shimmer, which is achieved by mixing a wide variety of metallics and fabric. There are eleven projects, fully captioned to set you off experimenting. A truly inspirational book for any stitcher who wants to expand their range of effects.
Published by Search Press UK £15.99
18th CENTURY EMBROIDERY TECHNIQUES by Gail Marsh
This book is delicious! As a gift or just to keep for one's self. There is much detail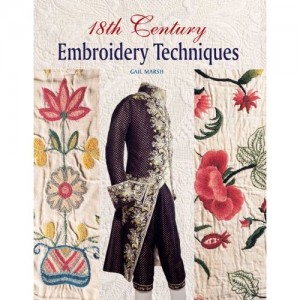 of a variety of authentic costumes, many at Gawthorpe Hall, with very clear explanations and drawings of motifs. The chapter on Gold Work contains workable drawings and gossip of how 18th century "ladies" collected gold threads by snipping them from wearers then re-selling the proceeds; this was termed "drizzling"! Parties were arranged for collections of such booty, not an activity for our gatherings!
It is packed with information on embroidery techniques that are still relevant today. It is a must for any
student of embroidery, fashion or textiles, or just an enthusiast of past beautiful items.
This is in a series on different periods of Embroidery. It contains a useful Glossary, advice when making a museum study, and a comprehensive bibliography.
Guild of Master Craftsman Publication 2007 ISBN: 978-1-86108-476-7
ROSES by Di van Niekerks
Anybody with an interest in flowers and a love of stitching will be interested in this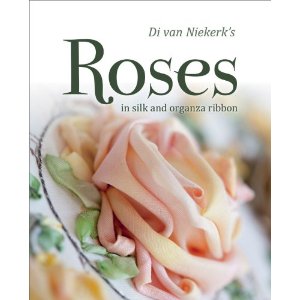 beautifully illustrated book on Roses. Sixty different new techniques are demonstrated with varying degrees of difficulty and sixteen different flowers plus leaves and stems show the creative possibilities of silk and organza ribbons. Helpful hints on getting started and the uses of transfer prints and suitable fabrics are followed by information about different types of ribbons. The section on techniques explains, very clearly, how to handle the ribbons to make separate petals and fully blown roses. There is a stitch gallery and an inspiring display of lush floral pieces. An excellent resource for stitchers who wish to develop their skills.
PUBLISHED by SEARCH PRESS ISBN 978-1-84448-717-2 £19.99
CROSS STITCH Herbs & Fruit, Flowers
Two delightful books on Cross stitch by the same author packed full of inspiring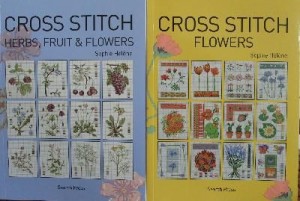 designs for the Cross stitch addict. The books contain coloured inspirational charts and a section on technical tips in which the author states that all one has to do to create these beautiful designs, is count! There are diagrams showing stitching, preparing the fabric, finishing and framing. She also advises on materials and accessories. Both ideal books for anyone who loves to stitch counted thread.
PUBLISHED by SEARCH PRESS @ £7.99 each
ISBN 978-1-84448-681-6 ISBN 978-1-84448-680-9
BLACKWORK by Becky Hogg
Becky Hogg specialised in traditional stitching during her honours degree at
Loughborough School of Art before becoming a Graduate Apprentice at the RSN, where she learned traditional techniques and worked for nine years on prestigious commissions. She now works at the RSN and freelances. This background has helped her to produce this excellent little book, one of a series on traditional techniques, in conjunction with the Royal School of Needlework. In the introduction, she explains that Blackwork not only makes patterns, but is also very suitable for creating light and shade on the textile surface.This makes the technique ideal for translating black and white photographs, pen and ink drawings and etchings etc onto fabric. She develops this idea with the development of blackwork techniques from the Tudor images in portraits to modern day interpretations with stunning effect. Threads, needles, framing up are all explained and then the book develops into methods of stitches and how to achieve beautiful tonal effects. The illustrations are excellent and both traditional and modern stitchers would be inspired to follow her methods. This is a very useful and creative book.
PUBLISHED by SEARCH PRESS ISBN 978-1-84448-551-2 £10.99
CREWELWORK by Jacqui McDonald
Jacqui McDonald's field of expertise lies in the conservation and restoration of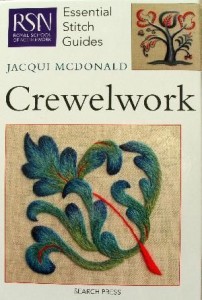 antiquities, so her handy volume on Crewelwork, published in conjunction with the Royal School of Needlework is right up her street. She teaches at the RSN and also works as a freelance using her wide experience of ancient textiles for inspiration. The book is very user friendly with a spiral ring binding which is always easier to manage when stitching. The content is a delight, with page after page of excellent photographs of work in progress and completed pieces. There is reference to the RSN and the history of crewel work and some very informative sections on materials and equipment. Fabrics, threads and needles are described, followed by sections on design and using colour. Traditional and modern Crewel work are both shown in excellent photographs, and there is a lot of inspiration in this book. Stitch methods are not overlooked and there are lots of different stitches illustrated which should be enough to inspire any Crewelworker, new or experienced. This a very useful and interesting book.
PUBLISHED BY SEARCH PRESS ISBN 978-1-84448-550-5 £10.99
REDWORK
Redwork embroidery is worked in very simple stitches using red thread to create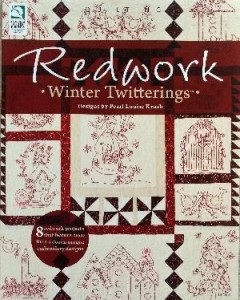 whimsical designs reminiscent of folk art. This book exploits this theme with eight variations on this technique. The projects vary from a Christmas quilt which incorporates rich red patchwork, to smaller designs for cushions, bags and an apron. At the start of the book there is an explanation of the different stitches used, equipment needed and suitable fabrics for the technique.The lively designs could be adapted to suit other methods of stitching, so this could be a useful reference book for beginners learning to stitch. The patchwork methods are fully explained with drawings to show the construction of the blocks The diagrams of the images could be utilised in cards for special occasions. This is a useful book for anyone wishing to develop their skills in Redwork.
Published by SEARCH PRESS ISBN 978-1-59217-321-1 Paperback $9.95