Young Embroiderers are members of The Embroiderers' Guild aged 7 – 17 years. We meet monthly in Womens' Hospital, Crown Street, Liverpool, L8 7SS.
We met with four enthusiastic young embroiderers on March 9th and we were treated to a lovely workshop led by Miranda Farby. We all learned how to do Chicken scratch embroidery on coloured gingham. This type of embroidery is also known as Broderie Suisse or depression lace and is a variation of cross stitch using the squares of the gingham and perle cotton to make a lacy pattern. The girls were pleased to discover how simple straight stitches and cross stitches could form the basis of such seemingly complex designs and all of them completed a small sample to go into the badge and a larger heart to be made into a cushion. A very successful and interesting time was had by all. Next meeting April 13th.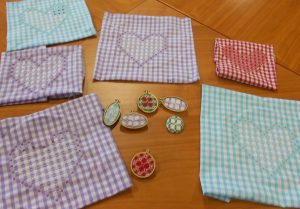 Our February meeting took place on 9th February. Three young embroiderers came along and we made a selection of hair bands and slides using a variety of adornments. We used organza petals which had been shaped by gently passing through a candle flame at home (by an adult!) and layered in different sizes. Decorative stitch was used to attach the petals together and beads to emphasise the centre. The flowers were then firmly attached to the hair band/slide. An alternative type of flower was made by gathering the organza around a beaded centre and there was also strips of silk available to gather for a different effect. The girls were also very inventive with the use of decorative buttons, and they went home with a good variety of hair adornments!
Next meeting 9th March 2019
2019 got off to a good start on 12th January when we met with four young embroiderers to construct and decorate a felt butterfly on a leaf. There was a wide selection of glittery thread, beads and sequins to add to their stitches and it was interesting to see how different all the butterflies turned out (some of them had doubled their weight in sequins, sparkles were very popular!) We were having too much fun to quite finish the butterflies which were intended to hang on a doorknob as adornment, but we hope the girls will bring us the finished piece next time. Next meeting is 9th February.