VISIT TO NORTH WALES EG Biennial exhibition "Inspired to Stitch". Merseyside Embroiderers Guild will run a coach trip to this exhibition on 4th November 2017, leaving Lime St at 9am and leaving Wales at 4.30pm. The coach will also visit Abakhan, Mostyn for shopping. Cost £15 plus £2 entrance to exhibition (see poster details of how to secure a place. Booking is essential) Visitors welcome
coach trip Rhos on Sea2017 poster
THREADING DREAMS EXHIBITION, from Sreepur Village, Bangladesh. From 10am -4pm from Monday 25th September 2017 –Sunday 1st October 2017 in the Readers Gallery, Calderstones Park, Liverpool L18 3JD. Excellent Christmas gifts for sale at reasonable prices, with all proceeds going to help the 600 children and 150 destitute mothers who live at Sreepur Village, Bangladesh.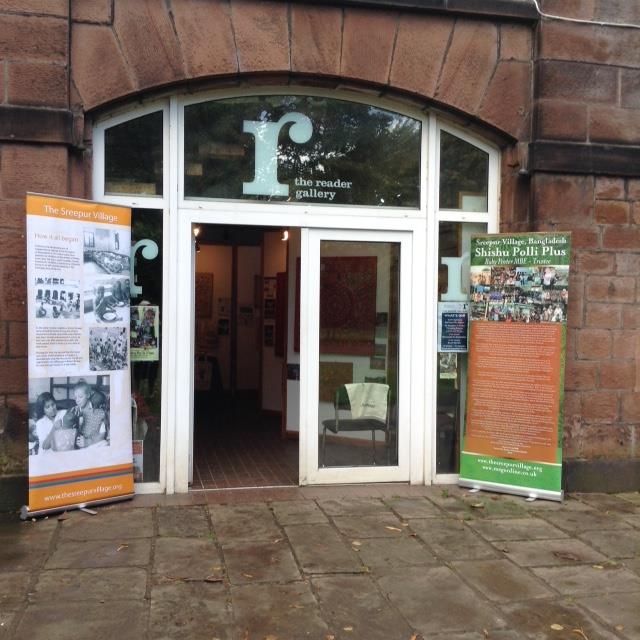 UP FOR ARTS CLUB FREE WEAVING SESSION Monday 25th September 2017, drop-in sessions from 11am-3pm, in The Royal Legion Pop In Centre, 25-31 Williamson St, Liverpool L1 1EB. Explore simple weaving techniques (see poster for more info)
EXHIBITION OF LINO-CUTS AND MONOPRINTS by Jessica Keeler to be held from 22nd July 2017 – 27th September 2017 at The Meeting House Cafe, Quaker Meeting House, 22 School Lane, Liverpool L1 3BT (see poster for further details)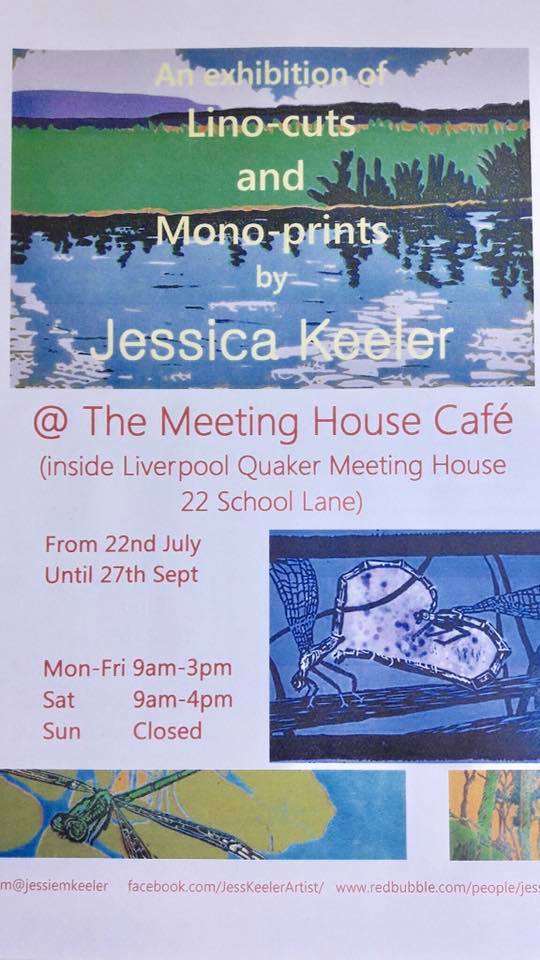 Come along and "Sew With Project Linus" on Thursday 12th October from 11am – 4pm at Abakhan Store, 34-44 Stafford St, Liverpool L3 8LX
Come along to the Liverpool Abakhan store on Thursday 12th October between 11a.m. and 4p.m. and turn shirts into quilts for Project Linus.
We will use a simple, quick pattern and would appreciate your help to stitch strips of shirts together, for any amount of time that you can spare.
All equipment and materials will be provided.
Come and sew/iron/cut/just say hello!
For further information please contact caroline.fogell@yahoo.co.uk
Small World exhibition, Review Textile group, Sept 2017
PROTECTIVE ROUTES, an exhibition by Christine Thomas, Liz Shelbourne and Jenny Wishart will be held from 13th November 2017 – 19th November 2017 in The Calderstones Coach House, Calderstones Park, Liverpool L18 3JD (see poster for further details)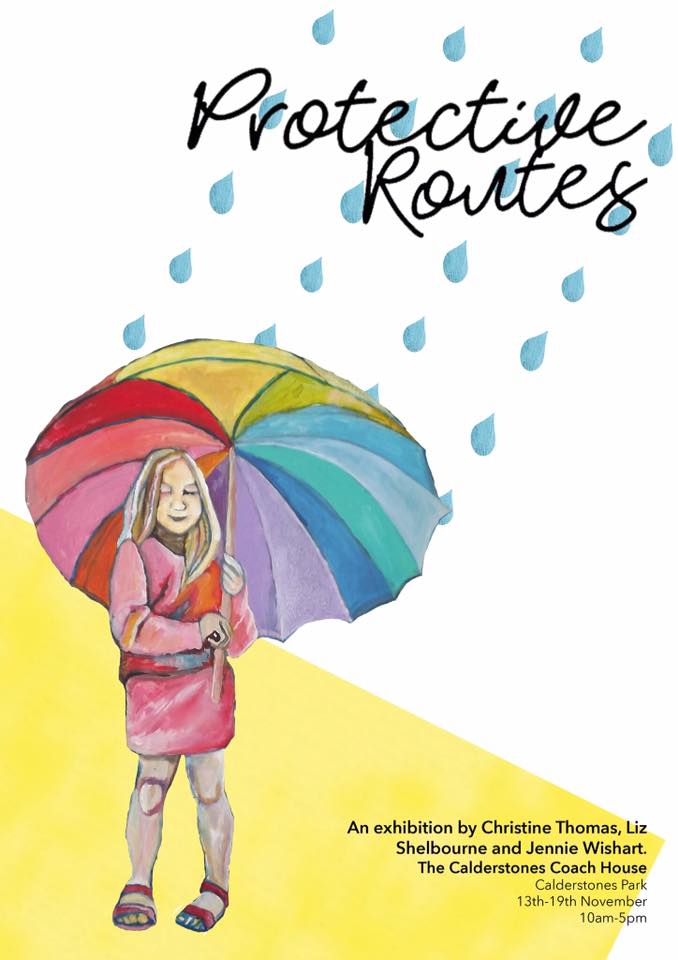 "THE BEAUTIFUL STITCH" textile treasures from the Embroiderers Guild Collection in Bucks County Museum, Church St, Aylesbury, HP20 2OP from 1st July 2017 – 28th October 2017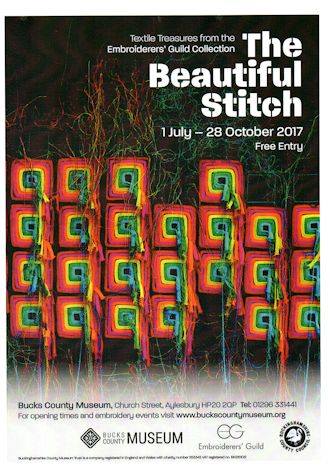 RAINFORD ART EXHIBITION to be held from 5th – 8th October 2017 in Rainford Village Hall, Church Rd, Rainford, Saint Helens WA11 8HB. Work in oil/acrylic, watercolour, drawing/other media, digitally enhanced photography, sculpture/ceramics, pottery and handicrafts may be submitted between 25th-29th September from 9am-noon. (no late entries will be entered) For more information contact- clerk@rainfordparishcouncil.com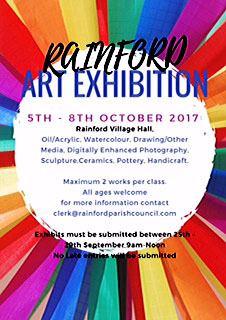 WORLD TEXTILE DAY NORTH, 23 September 2017 – Frodsham Community Centre, Fluin Lane – B5439, Frodsham, Cheshire, WA6 7QN
FREE admission to our exhibition of woven, printed and embroidered textiles from around the world. 10 am – 4.30 pm.
FAIR TRADE MARKET – From makers, workshops and villages around the world.
Plus: 11 am presentation. Magie Relph – quilter, collector, textile trader and author of 'African Wax Print: A Textile Journey. Colours of Africa.
2 pm Show & Tell. Bring and discuss your own world textile with one of our world textile experts. Plus: a short talk.
£3 per session or £5 for both, tickets at the door.
Throughout the day: demonstration by the Braid Society.
With these specialist world textile traders:
Textile Traders – Jim and Diane Gaffney
The African Fabric Shop – Magie Relph and Bob Irwin
Tukuru South American Textiles – Meri Hunneyball
Khayamiya Egyptian Appliqu̩ РJoan and John Fisher
Tanya Byrne Indian Textiles
Karen Haggis Nepalese Textiles
Suzy Rowe Indian Silk
Delicious refreshments provided by our hosts Frodsham Patchwork Group. Disabled access. Free parking. Station – Frodsham.
World Textile Day Frodsham 2017
NORTH WALES EG Biennial exhibition "Inspired to Stitch" to be held on 3rd November 2017 and 4th November 2017 in United Reform Church, Colwyn Ave, Rhos on Sea, LL28 4RA Entrance £2 (see poster for further details)
WINTER ARTS MARKET is on Saturday 2nd December 2017 beginning 10 am, in Liverpool Anglican Cathedral, St James Mount, Liverpool L1 7AZ This Christmas, the Winter Arts Market returns to the stunning Liverpool Cathedral for a festive shopping experience like no other; transforming the space into a bustling bazaar of artists, designers and makers. If you're stuck for the perfect Christmas gift for that hard-to-buy for friend or family member (or even yourself!), you'll find it at the Winter Arts Market with everything from photography and home wares to illustration, paintings, clothing and handcrafted beauty products available to buy directly from the maker.As well as over 200 arts and crafts stalls, head downstairs to find the Vintage and Food Fairs, chock full of unique festive party wear and tasty treats. There's also a Christmas crafting workshop for the little ones and live music throughout the day.