"Threading Dreams Exhibition"
Exhibition of textiles and embroidery from The Sreepur Village, Bangladesh and also from the rural areas. All this beautiful work is created in adverse poverty by amazing women. There will be hand made cards, silk scarves and other gifts for sale. All proceeds will go to the 600 children and 150 destitute mothers who live at Sreepur, plus the Street Children project we run on the railway, the river banks and at Dhaka airport. Millions of street children live literally on the streets in Bangladesh. Ruby Porter MBE (trustee) will be in attendance each day from 10am-4pm to talk about her voluntary work in Bangladesh over the last 27 years.
To find out more about Sreepur Village handmade cards and to buy online click here

Dates to note:-
Ruby will be at the exhibitions from 11am -4pm each day
Liverpool Cathedral, St James Mt, Liverpool L1 7AZ
19th – 24th July 2018
Liverpool Town Hall
No date confirmed yet
Calderstones Readers Gallery, Calderstones Park, Liverpool
15th – 21st October 2018
St Barnabas Church, Penny Lane, Liverpool L18 1LZ
22nd – 27th October 2018
---
April 2018- Sreepur Fundraising dinner in the House of Commons, Westminster
Rubina Porter MBE and her husband Ken had an excellent evening when they attended a Sreepur fundraising dinner in the House of Commons, Westminster on Friday 27th April. They hope to raise £20,000 for the mothers and children in Sreepur. Ruby reports- "I met lovely people and it was a most enjoyable event".
March 2018- Threading Dreams exhibition, St. Barnabas Church, Liverpool
Sreepur Threading Dreams exhibition at St Barnabas Church, Penny Lane, was excellent. There were lots of lovely visitors, and they loved the bookmarks, scarves, and shoe bags which all sold well. We had short films from Sreepur showing the amazing work by amazing women. A lovely few days and we raised £450.00.
I was also given a very generous donation £500.00 from my friends in Bath- how kind! Ruby

30th January 2018- Sreepur hangings on tour
Ruby has sent us a photo of the beautiful Sreepur silk hangings on display at St Johns Church, Waterbeach, near Cambridge last Saturday.
Coming soon- "Slaves of Fashion" new works by the Singh Twins in Walker Art Gallery, Liverpool
Ruby says "Our members may be interested in this exhibition to be held in Walker Art Gallery, William Brown St, Liverpool L3 8EN from 19th January to 20th May 2018. The Singh Twins came to talk to our branch some years ago- so interesting. At the end of the talk they said they would like to donate their fee to to me for the mothers and children at Sreepur and they have kept in touch. Such lovely ladies Amrit and Rabindra, both excellent artists.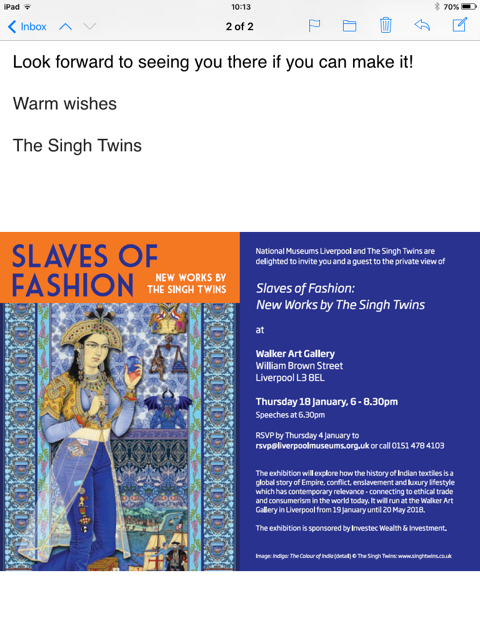 2nd January 2018 – Sreepur quilt draw

We have held the popular Sreepur quilt draw and the results are-

S Simms
A Surman
L Nuttall
E Haskell
S Brown

They are all delighted to win the beautiful quilts. We raised over £1000 for the mothers and children at Sreepur – how kind.
May I say thank you all for your support, without you all I could not raise the much needed money for the Sreepur project in rural Bangladesh,
Thank you all
Ruby