Here is a link to beautiful leaf forms, suggested by Brenda Muller . It is a blog about the textile artwork of an Australian artist , Meredith Woolnough. Just click here to have a look…

Plants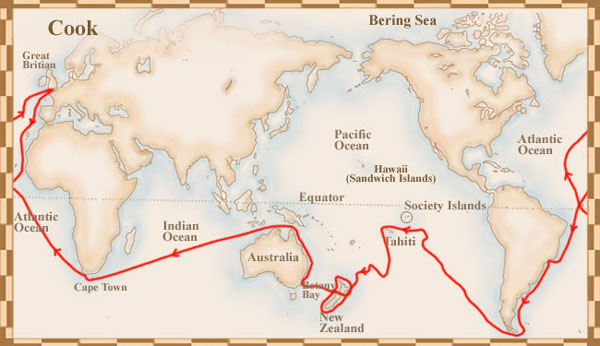 You might have a look at any plants and flowers that interest you from all the countries that Captain Cook and Joseph Banks visited on this first voyage of HMS Endeavour.
I asked Tania Oakshott, who was born in New Zealand, for a list of flowers that are native to New Zealand, and this is what she gave me-
Mount Cook lily, kowhai, pohutukawa, harakeke (New Zealand native flax), kakabeak, manuka flower, puriri flower, koru (not a flower but tightly curled fern frond which is distinctly New Zealand), korimiko flower (purple), New Zealand large flowered broom.
Harakeke (New Zealand flax ) is a plant native to New Zealand and although commonly known as flax, it is from the lily rather than flax family. There are two species found here Phormium tenax and Phormium cookianum. The leaves of Phormium tenax are longer and stronger than Phormium cookianum, and are usually used for weaving. It is the most widely used native plant both in traditional and contemporary Māori weaving. This is the fabric that the cloak presented to Joseph Banks was woven from.
If you have any pictures or information you would like to add to this page please contact Hilary
itrep@megonline.co.uk

and we will gladly update the page accordingly.