Group Project (cloak) and Travel Journal Project
Hello Everyone,
As you probably know by now we will be holding an exhibition in Liverpool Anglican Cathedral for two weeks during September 2018. The exhibition dates are 22nd -29th September 2018. The exhibition will be in the well of the cathedral which is a large space to fill, so we need lots of embroideries from as many people as possible!
The exhibition will be to commemorate and celebrate the 250th Anniversary of Captain Cook's First expedition to the South Pacific ocean aboard HMS Endeavour from 1768-1771 to observe the 1769 transit of Venus across the sun and to seek evidence of "the unknown southern land". Joseph Banks travelled with Captain Cook on the Endeavour and discovered many new specimens of plants.
However we have a group project which we hope as many people as possible will take part in. Joseph Banks was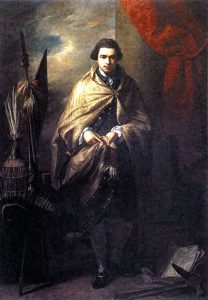 presented with a decorative cloak in New Zealand of which he was very proud. The cloak was made from New Zealand flax with a dog's hair fringe and and geometric pattern on the edge. In the painting he is showing us the patterned edge of the cloak. Gill Roberts will re-create the cloak, and our group project is to add a decorative edge. We have squares of even weave fabric available for everyone. Gill will be available at the next few meetings if you would like to attend a get your fabric directly from her, or you may email Gill Roberts at gill.roberts99@gmail.com to request a square to work on.
We would like you to work in any technique you like, hand embroidery, machine embroidery, appliqué, cross stitch, hardanger, blackwork to name but a few, but only with black on the white fabric. No other colours to be used please, and no metallic threads. Make a geometric grid (stripes, squares, zig-zags) and fill in the grid with any shapes you like. It doesn't matter if you use the fabric vertically or horizontal, but embroidery should remain within the tacking line. I have attached a photo to give you some guidance. Please email Gill Roberts with any queries about the cloak project, and don't forget to claim your fabric if you haven't already collected it on Saturday!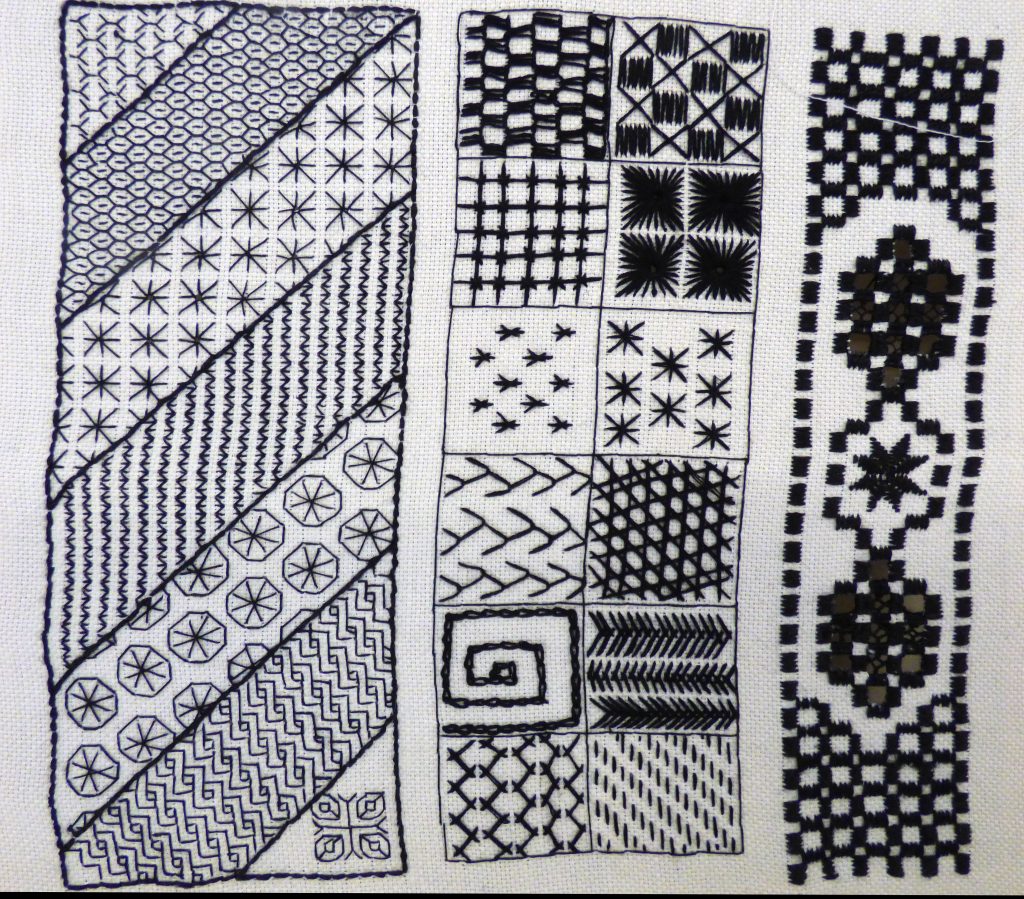 ---
There is also an ongoing project which will be an embroidered travel journal. Joseph Banks kept an ongoing journal, in which he documented his experiences as he travelled round the world. Kim has purchased an A4 journal and an A5 journal , and we would like to display these at the exhibition, filled with small embroideries of things that the adventurers may have seen along the way. It would also be nice to add a small amount of explanatory text with each embroidery.
If you have any pictures or information you would like to add to this page please contact Hilary
itrep@megonline.co.uk

and we will gladly update the page accordingly.