Find directions to L.A.C.E Conference Centre here….
Due to the current situation NW Regional Day 2020 has been postponed until 24th April 2021. Please contact Hilary
secretary@megonline.co.uk

with any enquiries.
About the venue:
Address- The Conference Centre at L.A.C.E, Croxteth Dr, Sefton Park, Liverpool L17 1AA
L.A.C.E. is The Liverpool Centre for Evangelization and it belongs to the Archdiocese of Liverpool.
NW Regional Day 2020 will begin with doors opening at 9.00am, and end with Farewell Refreshments at 3.45pm.
---
Dear Friends
As you no doubt already know, sadly we at Merseyside branch have had to postpone our hosting of regional day for a year, this is a shame as it was on course to be a great event. I'm sure it will be every bit as good, if not better, next year and hopefully you'll all be able to join us then.
If you wish to leave your ticket fees with us until then please rest assured they will be securely held and that our accounting records have been set up to ensure they are fully identifiable and detailed completely separate from our normal funds. However I realise a year ahead is a long time to commit to being available on one particular Saturday and so naturally if your branch and members want a refund now and then re-book next year that's fine.
Can you please contact Hilary at secretary@megonline.co.uk to advise us of your wishes. If you wish to be repaid by cheque please state to whom it should be payable and if you want to be repaid by direct online bank transfer please provide:-
1) Account name
2) Sort code
3) Account number
It would be helpful to us if you could say when and how you originally paid and if you paid online note any reference that was used.
Some of you may have already received a refund as any cheques that were held still waiting to be banked were marked as "Void" and were posted back last week.
Thank you for your understanding of this matter and I will attempt to deal with requests as quickly as possible. Looking forward to seeing everyone next year.
With Best Wishes
Eileen Sampson Treasurer Merseyside Branch
---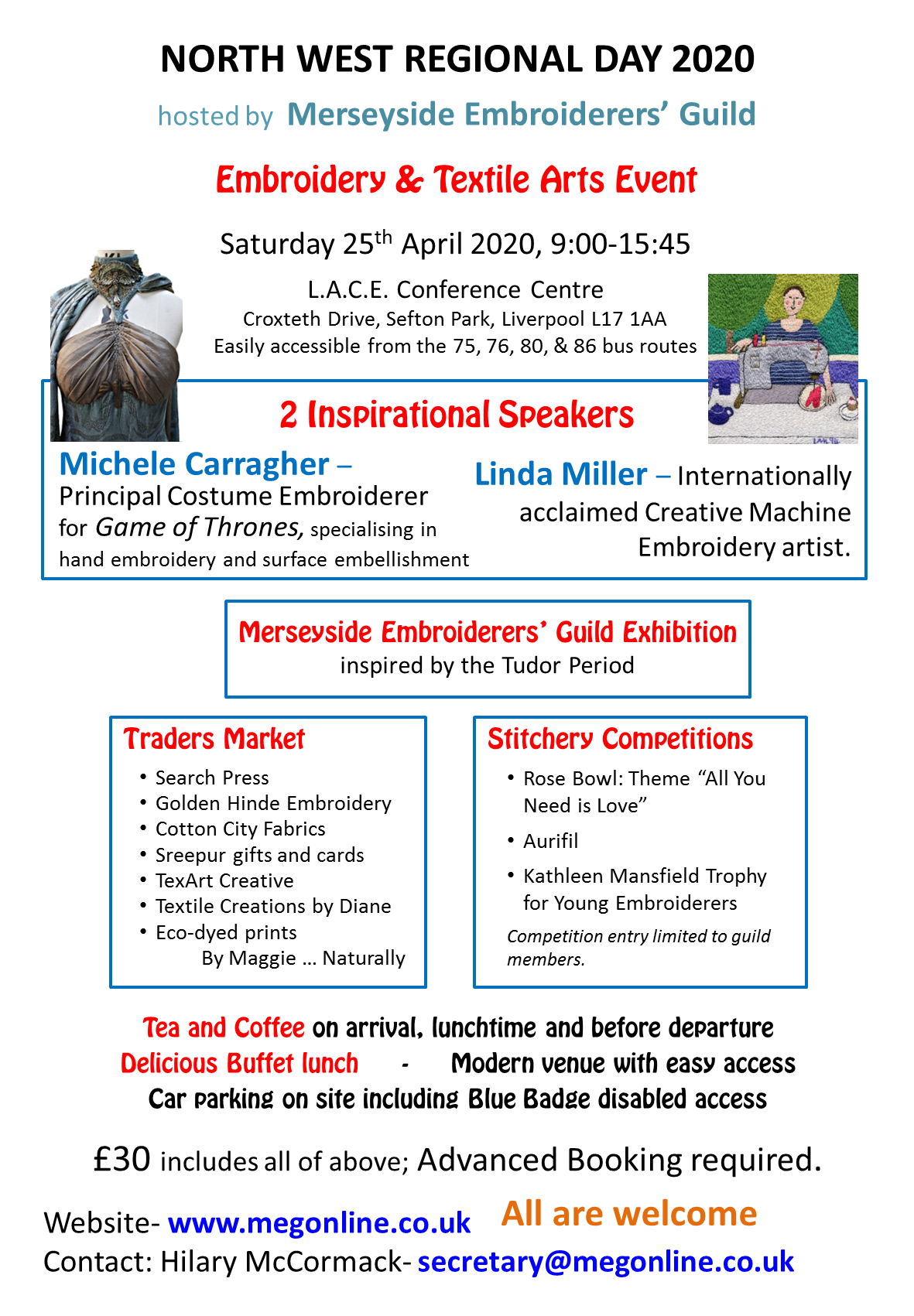 For Rose Bowl, Aurifil and Kathleen Mansfield Competition Guidelines and Rules click here ….
If you would like to have a 2020 Competition Entry/Insurance form just email secretary@megonline.co.uk